Intel claims that its next generation of chips designed for mobile devices will triple the calculating speed of previous chips. Based on a design called Silvermont, the new chips will also look to maximize power and performance while remaining energy efficient, drawing as little as one-fifth the electricity of current Atom chips. The company hopes new smartphones and tablets will turn to Intel rather than chips based on the ARM architecture.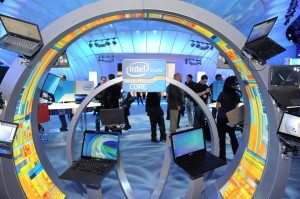 "Silvermont is designed to exploit a novel production process that creates transistors with three-dimensional features to boost performance and improve power consumption," reports the Wall Street Journal. "The latter capability is important in making Intel chips attractive for products such as smartphones and tablets, where battery life is paramount."
"Intel chips historically had disadvantages in power consumption compared with designs licensed from ARM Holdings PLC," notes the article. "But the company has closed that gap with recent models in a chip family called Atom, and company officials said the new Silvermont models would create a clear lead over competitors."
Intel is betting that Silvermont's new 22nm system-on-chip microarchitecture will take on ARM, which dominates the mobile landscape.
"I view this as a big occasion," said Dadi Perlmutter, an Intel executive VP, at a briefing. "This is not just a small deal."