Oculus VR announced yesterday that the company plans to ship its Oculus Rift headset by Q1 2016. Pricing and tech details have yet to be released, but consumers will be able to place pre-orders during the 2015 holidays. The virtual reality device, which has only been available for developers thus far, will need to be used with a PC. Both Palmer Luckey, the founder of Oculus, and Facebook, which acquired the company last year, expected to launch the headset earlier. However, the team has faced challenges regarding some of the system's requirements.
According to The New York Times, "the technology used in the Oculus device, from sophisticated motion tracking to the computer processing required to display vivid three-dimensional images in real time, has proved challenging to create."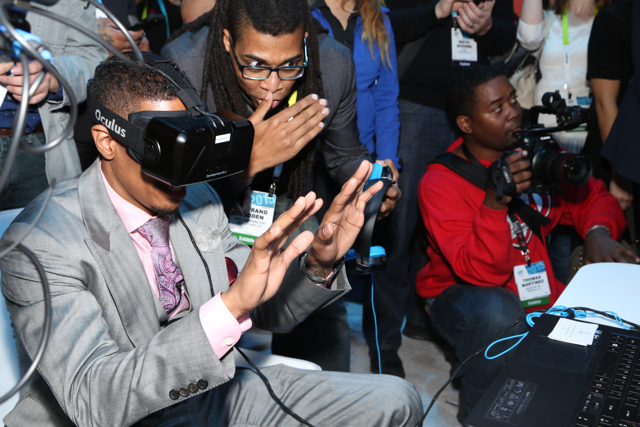 As virtual reality continues to generate interest with developers and content creators, the next wave of related devices is getting ready to test potential consumer expectations and demand.
Sony's Project Morpheus is also expected to ship early next year, and Oculus already launched the $200 Gear VR for select Samsung tablets and smartphones. The Vive headset, developed by Valve and HTC, is expected to be available prior to the holiday season.
While virtual reality will likely kick off with gaming applications, Facebook's Mark Zuckerberg "envisions that people will eventually have virtual social encounters and share experiences like watching a movie or traveling in real time," notes NYT. "Architects are already using the technology to show people how new buildings will look, and it has wide applications in medicine and the military."
Topics:
3D
,
Architecture
,
Developer
,
Facebook
,
Game
,
Gear VR
,
Headset
,
HMD
,
HTC
,
Mark Zuckerberg
,
Medicine
,
Military
,
Motion Tracking
,
Movie
,
Oculus
,
Oculus Rift
,
Oculus VR
,
Palmer Luckey
,
PC
,
Project Morpheus
,
Real-Time Processing
,
Rift
,
Samsung
,
Smartphone
,
Sony
,
Tablet
,
Valve
,
Virtual Reality
,
Vive