Facebook CEO Mark Zuckerberg imagined that the Oculus virtual reality technology his company acquired would eventually go beyond gaming — and it looks like that trend is already taking shape. Developers from a wide variety of industries are working on new apps for the Oculus Rift that could be used by stock traders, educators, psychiatrists, astronauts, filmmakers and others. The Oculus Rift is making VR more accessible because of its relatively low cost and growing variety of content.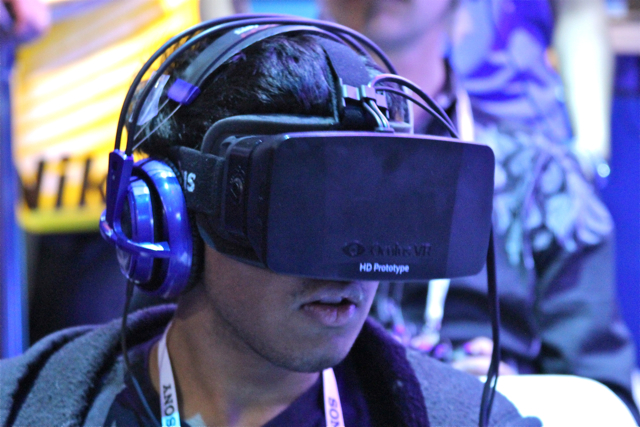 In some cases, the Oculus technology helps keep prices low for therapy patients. Dr. Albert "Skip" Rizzo of the University of Southern California found that he could use virtual reality to help treat patients suffering from PTSD, phobias, or anxiety. According to Ars Technica, VR treatment is nearly as effective as real-world immersion therapy and it is can be more convenient and cheaper in the long run.
Fidelity Investments built a virtual reality app that allows users to visualize their stocks in a completely new way. Instead of looking at traditional graphs, stock traders could put on the Oculus Rift and see an entire virtual city with each skyscraper's height representing the performance of a stock. The weather and flight paths of the virtual birds give the user additional statistics on their stocks.
Other industries are creating apps that are specialized for certain job roles. NASA's Jet Propulsion Lab, for example, is currently working on a project to help astronauts control a robotic arm on the outside of their spacecraft through a VR interface. Brian Peiris also created an app just for computer programmers, so that they could write code and watch the changes happen in real time, according to Bloomberg.
In the education sector, some teachers are using the Oculus Rift to help students with special needs who often think more visually. VR is also used with pairs of students to help develop teamwork skills. "[For] kids with sensory processing disorders, school days can be just overloading," explains Mathieu Marunczyn of the Jackson School in Victoria, Australia. "Technology coordinator  [Virtual reality can provide] a way that you could carefully have them go into these environments that for them are peaceful."
The travel and automobile industries have also used Oculus technology to market their products. YouVisit is converting its entire catalog of 1,000 tours of exotic vacation destinations and hotels so that it can be displayed in VR headsets like the Oculus Rift or Samsung Gear VR. Meanwhile, Lexus developed a virtual test drive of its upcoming RC F luxury car because of the shortage of physical prototypes.
Last week we reported that the independent horror film "Banshee Chapter" had become the first feature to be released for Oculus Rift headsets. Now the first 360-degree 3D documentary is available.
"The folks at Condition One are among the first to try to use the Oculus Rift for a new type of filmmaking," notes Ars. "Their first movie — 'Zero Point,' released on October 28—was shot using a 70 pound rig made up of a set of four RED Epic 3D cameras, arranged to shoot panoramic views in 5K 3D at 60 frames per second. Once the views from those cameras are stitched together, viewers can float through a 360-degree cinematic tableau that they can view at any angle simply by turning their heads."
Related Stories:
'Zero Point' is the First 3D 360 Degree Documentary for the Oculus Rift, Available Now, Road to VR, 10/28/14
Avegant Glyph Headphones Project Games Onto Your Retina, Wired, 10/29/14
Topics:
3D
,
Albert Rizzo
,
Apps
,
Avegant Glyph
,
Banshee Chapter
,
Brian Peiris
,
Education
,
Facebook
,
Fidelity Investments
,
Gaming
,
Headset
,
Jet Propulsion Lab
,
JPL
,
Lexus
,
Mark Zuckerberg
,
Marketing
,
Mathieu Marunczyn
,
Movies
,
NASA
,
Oculus
,
Oculus Rift
,
Programmers
,
PTSD
,
RED Epic
,
Samsung Gear
,
Stock Trading
,
Travel
,
USC
,
Video Games
,
Virtual Reality
,
VR
,
YouVisit
,
Zero Point