The 2013 horror indie "Banshee Chapter," produced by Zachary Quinto and directed by Blair Erickson, is the first feature film to be released on Oculus Rift headsets. San Francisco-based Jamwix is making the movie available for free via its website. Jamwix's Chimera software was used to convert "Banshee Chapter," which was already shot in 3D, into a virtual reality feature. The digital studio is using the project to promote how Chimera can transition films into an immersive VR experience.
"But Facebook is also likely to be keeping a close eye on the reception of 'Banshee Chapter' on Oculus Rift, considering it completed its $2 billion acquisition of the virtual reality headset maker in July, and has been aggressive in courting content makers to develop entertainment for the device ever since," reports Variety. "It's unclear just how many Oculus Rift devices are in consumers' hands."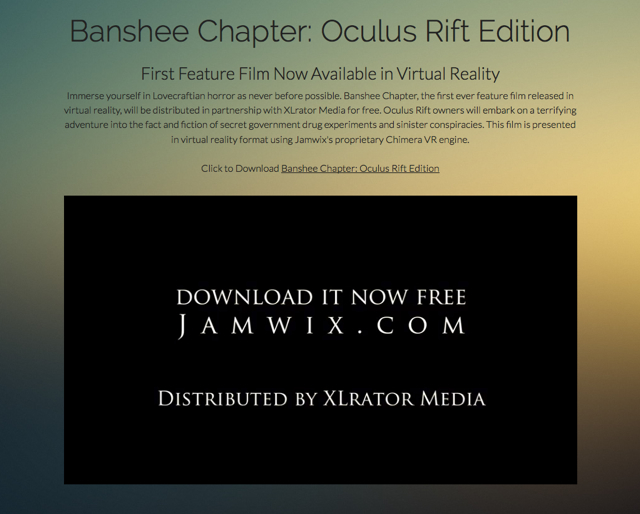 Hollywood studios have been offering short, promotional content through Oculus Rift for films including "Interstellar," "Pacific Rim" and "X-Men: Days of Future Past."
Erickson, who made his directorial debut with "Banshee Chapter," is also the co-founder of Jamwix.
"It's no surprise Erickson was eager to experiment with Oculus Rift, given that he was a creative director of Omnicom's interactive agency Millions of Us, developing interactive transmedia experiences for clients like Warner Bros., Fox, Activision and Ubisoft, among others," notes Variety.
"This is an incredibly exciting moment for technology and entertainment," said Erickson. "We were thrilled to begin unlocking the potential of the next generation storytelling experiences in virtual reality."
The Oculus Rift version of the film can be downloaded from the Jamwix site.
Related Stories:
Riftmax Theater Heads to Kickstarter to Improve the Social VR Theater Experience, Road to VR, 10/18/14
Virtual Reality and the Silver Screen: A Match Made in Heaven, CNET, 10/13/14