Ron Johnson, a former executive at J.C. Penney and Target and the man behind Apple's successful retail stores, is now leading a new company into the future of shopping. The startup is called Enjoy, and most of its plans are still under lock, but Johnson suggests the company is trying to change the way online shoppers connect with new products. Enjoy's service, which may bring a little more human touch to the process of choosing products, is scheduled to launch next year.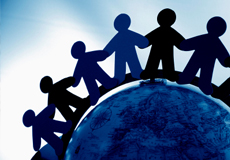 Johnson believes his service could be particularly valuable to consumers in the market to buy complex and expensive items. As more customers start to make purchases online, it is often difficult to focus on finding the right item when they are bombarded with prompts about the speed and cost of delivery. Also, it might be hard for some users to understand how new products such as a GoPro camera work from the tiny blurb posted on the Internet.
Major investors are showing interest in Enjoy. The startup raised $25 million in the latest funding round, which was led by Kleiner Perkins Caufield & Byers and Oak Investment Partners. Andreessen Horowitz has also invested.
Johnson recruited a team of industry heavyweights, including former retail vice president of Apple Jerry McDougal and technology director at Facebook Kunal Malik.
Enjoy — based in Menlo Park, California — will offer employees full-time salaries, training, benefits, and flexible schedules (similar to how Uber drivers create their own schedules). Those employees are crucial to Enjoy's vision to bring the human aspect back into online shopping.
"There's more to life than logistics. There's more to life than a review," said Johnson. "Just because we're moving online, it doesn't mean that need for a connection is going away. No one has really thought that through yet."
"Johnson was the architect of Apple's retail strategy, which aimed to establish a deeper connection with customers," reports The Wall Street Journal. "The minimalist stores allowed people to touch and try Apple's computers. The stores also feature a Genius Bar that provides technical advice or help in setting up new products. The strategy worked: Apple Stores generate more sales per square foot than any other retailer, including luxury brands like Tiffany & Co."
Johnson has also experienced the downside of running retail. In 2013 he was ousted as CEO of J.C. Penney because of a massive drop in sales.
Topics:
Andreessen Horowitz
,
Apple
,
Delivery
,
Employees
,
Enjoy
,
Facebook
,
Genius Bar
,
GoPro
,
Investor
,
J.C. Penney
,
Jerry McDougal
,
Kleiner Perkins Caufield & Byers
,
Kunal Malik
,
Luxury Brands
,
Menlo Park
,
Oak Investment Partners
,
Online Shopping
,
Retail
,
Ron Johnson
,
Sales
,
Stores
,
Target
,
Tiffany & Co.
,
Tom Suiter
,
Uber