After first debuting the Maxwell-based GTX 980 graphics chip in a notebook last year, Nvidia has now upped its game, with notebooks and laptops powered by its GTX 1000 series chips, more specifically the GTX 1060, GTX 1070 and GTX 1080. These new GPU chips, which Nvidia declares "VR-ready," use the company's more efficient Pascal architecture to provide nearly identical operation to their desktop chips; only the GTX 1060 provides a slightly slower base clock speed in a notebook.
The Verge reports that Nvidia demonstrated the chips with "Gears of War 4" on a notebook "with a GTX 1080 outputting the game at 4K running at 60 fps."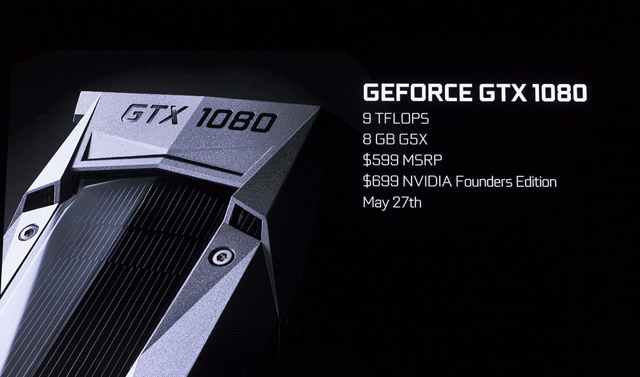 "This is something that we've wanted to do for years," said Nvidia program manager Mark Aevermann. "These [chips] are very powerful … these are very advanced."
The GTX 1080 runs 2,560 CUDA cores at 1733Mhz, with 8GB of GDDR5X memory; the GTX 1070 (which replaces the 980M) runs 2,048 CUDA cores at 1645Mhz with 8GB of GDDR5 memory; and the GTX 1060 (which replaces the 970M) runs 1,280 CUDA cores at 1670Mhz with 6GB of GDDR5 memory. The chips out-perform the M chips they are replacing by "at least 150 percent."
The claim of VR-readiness was tested by a Verge reporter, who tried an HTC Vive headset with the lower-end GTX 1060 on a laptop, with "a rather basic boxing game." The conclusion is that the high-end GTX 1080 is VR-ready, but that "once you get down to the GTX 1060 things start to get a little more murky," and depend on the graphics-intensity of individual game titles. Also noted is that "Nvidia's VR ready promise is also strictly limited to AC power, since the company can't guarantee it on battery alone."
Benchmark tests by Nvidia "show impressive reference performance between the notebook and desktop versions" of the chips, with "some tests leaving the notebook version of the GTX 1080 performing better." Nvidia is focused on gaming: Aevermann reports "that gaming notebooks have a 20 million install base, compared to 52 million for PlayStation 4 and 29 million for Xbox One," and the company is betting that notebook sales will increase "by 30 percent this year while console sales growth stalls."
Among the OEMs expected to offer a Pascal-based notebook are Lenovo, EVGA, Alienware, Asus, MSI, HP, Acer and Razer. "Nvidia expects OEMs to create GTX 1060 notebooks that are as thin as 18mm and as light as 4 pounds," notes The Verge.
Topics:
4K
,
Acer
,
Alienware
,
Asus
,
CUDA
,
EVGA
,
Gaming
,
Gears of War 4
,
GPU
,
Graphics Chips
,
GTX 1000 Series
,
GTX 1060
,
GTX 1070
,
GTX 1080
,
GTX 980
,
HP
,
HTC Vive
,
Laptop
,
Lenovo
,
Mark Aevermann
,
Maxwell
,
MSI
,
Notebook
,
Nvidia
,
Pascal Architecture
,
PlayStation 4
,
Razer
,
Virtual Reality
,
Xbox One