Nvidia introduced Titan X, a new chip that is a successor to a current chip with the same name, targeted at the high-end gaming and artificial intelligence communities. Priced at $1,200 and available beginning August 2, the new Pascal-based Titan X chip offers 12 billion transistors, compared to seven billion on a high-end Intel chip. The new Titan X will be available as an add-on card for PCs. Nvidia's closest competitor, Advanced Micro Devices (AMD) offers a similar chip for PCs and game consoles.
According to The Wall Street Journal, both companies have seen their stock tick upwards this quarter: AMD by 12 percent and Nvidia by 2 percent this last Friday.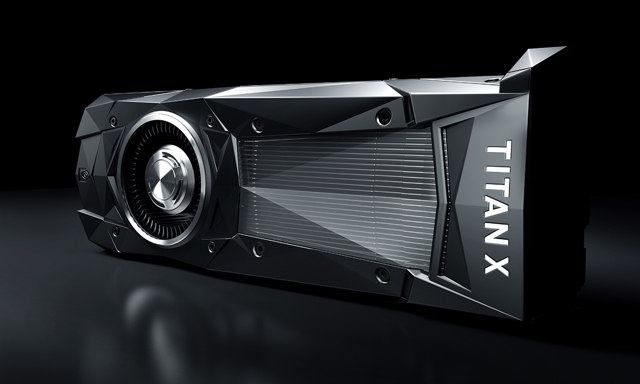 Unlike chips from Intel or others that offer general-purpose processing cores, both Nvidia and AMD's chips are in the category of graphics processing units, or GPUs, with "hundreds or thousands of specialized calculating engines." Recently, GPUs have been applied to deep learning, "that allows computers to teach themselves by sifting through troves of data rather than through explicit programming instructions."
Two months ago, Nvidia also debuted the GTX 1080, a $599 card that the company said surpasses the performance of the previous Titan X, introduced in 2015 for $1,000. At the time, Nvidia co-founder Jen-Hsun Huang called the GTX 1080's performance "almost irresponsible." The new Titan X's performance, he says is "even more impressive," with the ability to "perform 11 trillion floating point calculations per second, compared with 9 trillion for the GTX 1080."
Gaming PC manufacturer Falcon Northwest president Kelt Reeves calls the new Titan X "a surprise given the recent timing of the GTX 1080 and its lead over rival products." Gaming fans who buy Falcon Northwest products, says Reeves, "often spend more than $4,000 on a gaming system," and "are likely to quickly embrace the new flagship GPU."
"This is kind of a love letter to our audience," he said.
Related:
Nvidia Claims its New Chip is the 'World's Fastest GPU' for Game and VR Design, VentureBeat, 7/25/16