Nokia has unveiled its new Lumia 1020, confirming the rumors that the smartphone touts a 41-megapixel camera. It features six-lens Carl Zeiss optics (including wide angle), auto and manual focus, and captures 1080p HD video at 30 frames per second. Preorders for the Windows Phone 8 device begin tomorrow, available in the U.S. exclusively through AT&T for $300 with a two-year contract. The Lumia 1020 is expected to hit shelves July 26.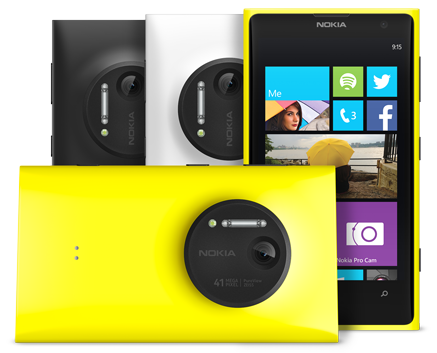 "Make no mistake about it: the Lumia 1020's stunningly enormous image resolution is this smartphone's single killer feature and sole reason for being," reports CNET in its review. "Nokia pairs an ultralarge camera sensor with the company's PureView image-processing software, finally bringing us the smartphone we hoped the Lumia 920 and its many variants would be."
The Lumia 1020's camera includes a high-resolution 3x zoom and a smaller LED flash that complements the primary Xenon flash. Ball bearings surround the lens for image stabilization, replacing the previous stabilizing springs found in the Lumia 920. Nokia's Pro Camera settings include manual exposure settings and long exposure times.
According to the Nokia Blog, built-in tutorials walk users through settings such as exposure level, white balance, shutter speed and film ISO. The camera also has a dual capture function that records two images when you press the button — one that is full resolution and one that is 5-megapixel, intended for easy sharing on social networks. (Full specs are available on the Nokia site.)
"The screen on this 4G LTE smartphone has the same familiar 4.5-inch AMOLED PureMotion HD+ display with a 1,280×768-pixel HD display and a 16:9 aspect ratio," notes CNET. "Nokia's Clear Black filter lies on top for cutting down outdoor glare. As with the new guard of Lumia phones, this 1020 has an ultrasensitive touch screen that you can operate with your fingernail or gloved hand; the 1020 is new enough to get Gorilla Glass 3 as its topper.
"The 1020 runs on a 1.5GHz dual-core Qualcomm Snapdragon S4 processor, and has 32GB of internal memory, supplemented by 7GB of SkyDrive cloud storage, courtesy of Microsoft," adds CNET. "The phone is sealed in typical high-end Lumia fashion, so there's no expandable memory, though 32GB is a healthy helping."
"For anyone who prioritizes taking the best photos on a phone, the Lumia 1020 seems to have it all — even getting app partners on board, such as Path, giving you a place to share," notes Pete Pachal in his Mashable hands-on review. "I doubt this will inspire many iPhone or Android users to switch, especially since it's only on AT&T, but for mobile shutterbugs who really can't bring themselves to carry around a dedicated camera, the 1020 is worth a good, long look."
The CNET post includes a 3-minute video report from the Lumia launch event in New York.
Related Stories:
What's Old — and New — About the Nokia Lumia 1020's Camera, CNET, 7/11/13
Nokia Lumia 1020 vs. Samsung Galaxy S4, iPhone 5, HTC One, CNET, 7/11/13
Windows Phone Tweaks Back Lumia 1020's 41MP Camera, CNET, 7/11/13
Topics:
1080p
,
4G
,
AMOLED
,
Android
,
AT&T
,
Camera
,
Camera Phone
,
Galaxy
,
Galaxy S4
,
Gorilla
,
HD
,
HTC One
,
iPhone
,
iPhone 5
,
Lumia
,
Lumia 1020
,
Microsoft
,
Mobile
,
New York
,
Nokia
,
NYC
,
Optics
,
Phone
,
Phone 8
,
PureView
,
Samsung
,
Samsung Galaxy S4
,
SkyDrive
,
Smartphone
,
Video
,
Windows
,
Windows Phone
,
Windows Phone 8
,
Zeiss