Epic Games' "Fortnite" led the way to 13 percent growth of digital games and interactive media to $119.6 billion in 2018, said Nielsen division SuperData. On its own, "Fortnite" earned $2.4 billion last year. The global industry segment is expected to grow to $118.2 billion in 2019. SuperData's annual report stated that, in 2018, 850 million unique people viewed video games, with Tyler "Ninja" Blevins garnering 218 million hours, making him Twitch's No. 1 streamer. Mobile games came out on top with $61.3 billion in revenue.
VentureBeat reports that, in comparison, PC games earned $35.7 billion and game consoles $12.7 billion. Within that category, PC games broke down to $17 billion for free-to-play, $7.3 billion for social, $7.6 billion for premium and $4.2 billion for pay-to-play. For console games, "$10.7 billion was free-to-play and $2.0 billion was premium."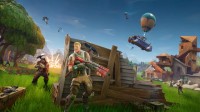 SuperData also reported that the share of immersive media revenue from augmented and mixed reality "grew from 27 percent to 35 percent in 2018" with AR/VR slated to grow to $11.5 billion in 2019, up from $6.6 billion in 2018.
"Fortnite" has earned "the most annual revenue of any game in history," and "Red Dead Redemption 2" earned $516 million during 2018. Asian mobile games accounted for 62 percent of global free-to-play, with "free-to-play titles amass[ing] 80 percent of digital games revenue in 2018." Premium games "grew 10 percent to $17.8 billion in 2018," with North America and Europe generating 80 percent of revenue in this sector.
Twitch's audience (183 million) is smaller than YouTube's (594 million), but "generated more revenue since Twitch draws more dedicated viewers who spend directly to support their favorite creators." Esports clocked in at $1.2 billion in revenue, with AR/MR/VR hitting $6.6 billion in 2018, up from $4.5 billion in 2017.
Elsewhere, VB reports that App Annie said "mobile users dedicated 74 percent of their app spending to games in 2018." That company's 2019 State of Mobile Report added that, "mobile saw the fastest growth in the gaming sector, beating out consoles, PC, and handheld," with China, Japan, and the U.S. accounting for 75 percent of consumer spending in 2018.
In China, gamers spent $28.1 billion, up 105 percent from 2016; U.S. gamers spent $13.5 billion in 2018; and Japanese gamers shelled out $13.2 billion. Top mobile game by downloads in China and South Korea was "PlayerUnknown's Battlegrounds," and NetEase's "Knives Out" was No. 1 in Japan.
Mobile numbers are hard to track for "Fortnite," since Epic Games doesn't list the title on Google Play. The top smartphone game in the U.S. last year was "Pokémon Go," based on monthly active users, and "Candy Crush Saga" was the top game in Canada, France and the U.K.
Related:
Free to Play Games Rule the Entertainment World With $88 Billion in Revenue, TechCrunch, 1/18/19
U.S. and Canada Grew Total Number of Mobile Gamers in 2018 by 5%, VentureBeat, 1/15/19
Topics:
App Annie
,
Augmented Reality
,
Candy Crush Saga
,
Epic Games
,
eSports
,
Fortnite
,
Free-to-Play
,
Game Console
,
Google Play
,
Knives Out
,
Mixed Reality
,
Mobile Game
,
NetEase
,
Nielsen
,
Pay-to-Play
,
Pokémon Go
,
PUBG
,
Red Dead Redemption 2
,
SuperData
,
Twitch
,
Tyler Blevins
,
Video Game
,
Virtual Reality