During April's NAB Show in Las Vegas, Japanese broadcaster NHK plans to demonstrate the latest version of its Super Hi-Vision 8K system, including the wireless transmission of 8K content over a single 6 MHz television channel. The broadcaster will also present the results of recent single-channel, over-the-air 8K test broadcasts performed in Japan. NHK has been promoting the move to 8K Ultra HD, which offers 16 times more resolution than current HD.
"Ultra HD TVs currently available in the U.S. support 4K resolution, which is four times as much resolution at today's HD," writes Carolyn Giardina for The Hollywood Reporter. "But NHK wants to move to 8K, and Japan is looking to begin [testing] 8K broadcasting by the 2016 Rio Olympics."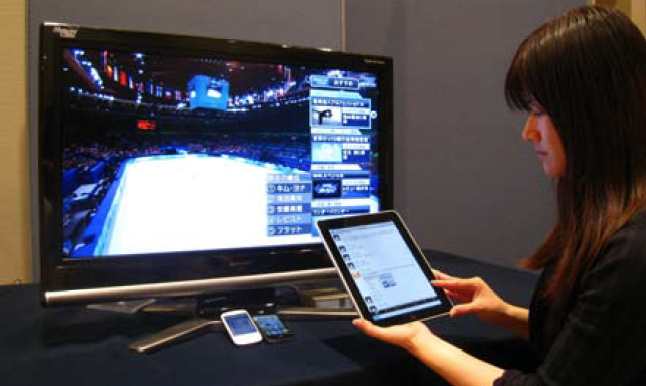 NHK will screen test footage from the Sochi Winter Olympics at NAB. The broadcaster's exhibit will feature a 350-inch screen, 8K video projection and 22.2-channel sound reproduction.
"With an eye toward demonstrating that 8K is an achievable goal, it plans to show 8K production technology including an 8K video camera that weighs roughly 4.5 lbs an 8K-capable real-time HEVC (High Efficiency Video Encoding) encoder, and a display-integrated sound system 'providing virtual representation of 22.2-channel sound,'" Carolyn notes.
NHK also plans to demo its Hybridcast interactive system (pictured above), which debuted last September in Japan. NHK introduced Hybridcast at last year's show.
The NAB Show is scheduled for April 5-10 (exhibits April 7-10) in Las Vegas.
Topics:
4K
,
8K
,
Association
,
Audio
,
Broadcast
,
Camera
,
Channel
,
Conference
,
Demo
,
Encode
,
Exhibit
,
Exhibition
,
HD
,
HDTV
,
HEVC
,
Hi-Def
,
Hi-Vision
,
Hybridcast
,
Interactive
,
Japan
,
Japanese
,
Las Vegas
,
LVCC
,
NAB
,
National
,
Nevada
,
NHK
,
Olympics
,
Projector
,
Resolution
,
Rio
,
Screen
,
Show
,
Sochi
,
Sound
,
Sports
,
Summer
,
Super
,
System
,
Television
,
Test
,
Transmission
,
Transmit
,
TV
,
UHD
,
Ultra
,
Ultra HD
,
Video
,
Winter
,
Wireless