Newzoo predicts that eSports will earn $1.7 billion in revenues by 2021 and every major U.S. media conglomerate will own at least some eSports rights. To buttress the latter prediction, Newzoo notes that Disney, Comcast and AT&T are "already looking into content rights for eSports," in part, at least, to "entice younger consumers." The research firm further predicts that eSports content will not only be featured on these media outlets' linear platforms but also on their nonlinear live-streaming platforms.
VentureBeat reports that Newzoo also believes that, "gaming as a whole, including eSports, is already on track to become a bigger industry than traditional professional sports." The company predicts that, "the global games market will generate revenues of $180.1 billion by 2021, and eSports will be a major driver of this, with many brands investing in eSports to appeal to younger demographics."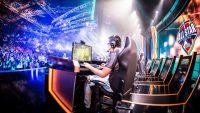 Newzoo also predicts that, "the Olympics will embrace eSports but not as part of its traditional winter or summer games" and that the term "eSports" will be replaced by fans talking about individual games.
Newzoo's past predictions on eSports weren't always on the money. In 2015, the company predicted that eSports would reach $465 million by 2017, when in fact it reached $655 million. It also correctly predicted that, "media rights would turn into a huge focal point … and organizations would need strict rules and regulations to protect tournaments from cheating (the Esports Integrity Coalition began in 2016)."
It did not, however, foresee that eSports "would need to shift to a regional structure with city-based teams." Newzoo says that is "partially true thanks to the Overwatch League, but it also notes that this strategy has gone widely ignored by other leagues."
Elsewhere, VB reports The NPD Group revealed that, "U.S. consumers spent $19.5 billion on gaming in the first half of 2018," up 40 percent from the same period last year. Mobile had the most growth, but "full game, downloadable content and subscription" also showed upwards momentum. The season pass, popularized by "Fortnite," is a new monetization model that's also driving increased game revenues.
Hardware sales are also up 21 percent from the same period last year, to $1.7 billion, reaching a "seven-year high thanks to traditional consoles like the Xbox One X and plug-and-play machines like the NES Classic Edition."
The NPD Group games industry analyst Mat Piscatella said he is still optimistic "for the remainder of 2018, thanks in part to the strong lineup of titles set to be released in the fourth quarter." "This, combined with continued strength in hardware and accessory spending, should result in double-digit annual percentage gains for the total market," he said.