Further to its goal of becoming a sort of Google-with-benefits for viewers who stream TV shows and movies across multiple platforms, Plex is reformatting its welcome screen to include a discover feature, universal search and universal watchlists. Rolling out in beta, the new Plex interface offers what amounts to personalized search-and-save "across virtually any streaming service," from Plex's own free movies and television series to subscription services like Netflix, Disney+ and HBO Max. "As of today, Plex searches, personalizes, and organizes all of your content, no matter where that content lives," the company announced.
"Now, when you log in on any of our major platforms, including Roku, Apple TV+, Android TV, Amazon Fire TV, iOS and Android mobile devices, smart TVs, game consoles, and the web app, you'll get a new welcome screen that will invite you to customize your preferences," Plex says in a blog entry.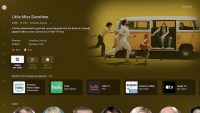 "Plex has more than 450 services indexed for search," reports TechCrunch, noting that "when viewing a particular title, Plex will first display the streaming options users have access to ahead of other services. It will also highlight if the title is currently available to stream through Plex's own ad-supported streaming catalog. And it will indicate if the user has the title available in their own media library."
From the universal search app, Plex users can search by title, actor, genre or even collections, for things like "Star Wars" or "Real Housewives," where there are multiple offerings under a larger theme. "Currently, the people search is limited to users' own media collections, Plex tells us, but that option will soon roll out to universal search, as well," explains TechCrunch.
Viewers can elect to launch content on a separate streaming service directly from the Plex interface, although TechCrunch notes that this particular feature is not yet available for Roku "due to its existing policies around deep links." The Verge says more than 150 different streaming services support the more advanced features, including "a new 'watch from these locations' feature, which helps if you know what you want to watch but not where to find it."
While other platforms offer aspects of this Plex stack, "it would certainly be nice to have it all in one place and in a relatively neat interface that works across many different devices," The Verge opines, noting that the new features should work without opting in to a beta test "as long as you're using the most up-to-date version of the Plex app" but users "may have to follow Plex's instructions to find them depending on your settings."
Plex is making the new features available free and offering "pro features" for $4.99 per month to those who "want to really level up your media game."
Topics:
Advertising
,
Amazon Fire TV
,
Android
,
Android TV
,
Aniplex
,
App
,
Apple TV Plus
,
Beta
,
Discover
,
Disney Plus
,
Game Console
,
Google
,
HBO Max
,
iOS
,
Media Library
,
Movie
,
Netflix
,
Plex
,
Real Housewives
,
Roku
,
Search
,
Smart TV
,
Star Wars
,
Streaming
,
Subscription
,
TV Show
,
Universal Search
,
Video
,
Watchlist