While the IFA conference in Berlin has traditionally targeted consumers in Europe, the show has recently become a global launching pad for products being readied for the holiday shopping season, one reason IFA has become more significant. According to TechCrunch, this year's more notable announcements included Alexa routers from Netgear and Huawei; 8K TV sets from LG, Samsung, Sharp, Toshiba and others; smartphones such as the Sony Xperia XZ2, LG G7 One and HTC U12 Life; Polaroid's new instant camera the OneStep+; and Lenovo's Yoga Book C930 convertible, which features an E Ink display instead of a keyboard.
"Smart assistants were, naturally, everywhere at the big event," notes TechCrunch. "One of the most fascinating entries is the emerging trend of Alexa routers. Both Netgear and Huawei announced devices that essentially transform" routers into smart speakers. "Netgear is the more compelling of the two, using a mesh network to place them throughout the home."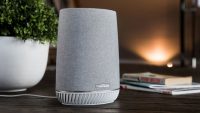 TechCrunch also reports that Amazon announced during the show that its Alexa now works with more than 20,000 devices from 3,500+ brands.
Amazon "has been making an extremely aggressive push to work with as many third-party devices as possible. In many cases working closely with manufacturers on integration, both as partnerships and part of the company's Alexa Fund, designed to invest in hardware startups. These days, the list of categories Alexa access is big and only getting bigger, from phones to thermostats to TVs to cars."
Related:
Best of IFA 2018 Award Winners, Digital Trends
The Biggest News From IFA 2018, Engadget, 9/4/18
4 of the Coolest things We Saw at IFA 2018, VentureBeat, 9/3/18
Here's All the Coolest Stuff From Europe's Biggest Tech Show, Gizmodo, 9/4/18
The Best Laptops of IFA 2018, Digital Trends, 8/30/18
Best Smartphones of IFA 2018, Digital Trends, 8/31/18
Nubia's Wearable Smartphone Is a Preview of Our Flexible OLED Future, The Verge, 9/4/18
Topics:
8K
,
Alexa
,
Alexa Fund
,
Amazon
,
Berlin
,
E Ink
,
Europe
,
Germany
,
Huawei
,
IFA
,
Laptop
,
Lenovo Yoga Book C930
,
LG
,
LG G7 One
,
Netgear
,
OLED
,
Orbi
,
Polaroid OneStep+
,
Router
,
Samsung
,
Sharp
,
Smart Speaker
,
Smartphone
,
Sony Xperia XZ2
,
Television
,
Toshiba
,
TV Set
,
Voice Control