Toshiba revealed that many of its OLED, 4K and Full HD Smart Range TV sets will respond to Alexa voice control starting next year. Via Alexa, consumers will be able to change the channel or volume, offer movie recommendations, read the news or launch more than 45,000 Alexa skills. Toshiba also introduced its first Android TV, a 55-inch model, with Google Assistant voice, which became available last fall, to control smart home devices and the TV volume, search for movies, and launch apps. Bose, Marshall and Sony are among those also introducing Alexa-enabled products.
VentureBeat reports that, "like JBL, Harman Kardon, and many other manufacturers, Toshiba has chosen to sell appliances with voice control from both Alexa and Google Assistant." Toshiba also debuted a series of new TVs, including its 8K prototype for Europe, "a bezel-free 65-inch 4K TV and 65-inch 4K television that's only 2.5 millimeters thin."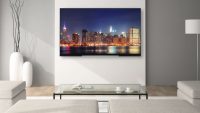 The company also introduced Amazon Dash Replenishment for its TVs' remote controls, "so when the batteries die in your remote control, replacements can be automatically sent to you by Amazon." All these announcements were made in advance of the IFA conference in Berlin.
Also ahead of IFA, Marshall debuted Alexa and Google Assistant smart speakers; Sony introduced soundbars and headphones with Alexa voice control, and Bose unveiled its first smart speaker with Alexa voice control. Google said its Assistant will be able to speak two languages simultaneously, and that Home Max speakers will "go on sale in more European nations like the United Kingdom and Germany."
Elsewhere, VentureBeat dug down into Sony's Amazon Alexa support for its soundbars and headphones. The company reported that, "an upcoming firmware update on its premium HT-ZF9 soundbar will allow it to play ball with other Alexa-enabled devices so you can adjust the volume or play a specific artist by making a verbal request to Alexa."
The integration of Alexa with the Sony headphones, however, will still require them to be connected to an Alexa app on a smartphone. Sony will also debut an update allowing users to "pair their soundbar with Amazon's Echo smart speakers in the home so they can listen to their music in multiple rooms throughout the house."
To increase penetration of Alexa, Amazon introduced a mobile accessory kit to encourage manufacturers to bring Alexa to wearables and headphones among other devices. A few months ago, ECS "became the first company to announce Alexa-enabled headphones with built-in Wi-Fi, meaning users could interact with Alexa without having to first connect to any other device, such as a smartphone."
Topics:
4K
,
8K
,
Alexa
,
Alexa Skills
,
Amazon
,
Amazon Dash Replenishment
,
Amazon Echo
,
Android TV
,
App
,
Bose
,
ECS
,
Full HD
,
Google Assistant
,
Google Home Max
,
Harman Kardon
,
Headphones
,
IFA
,
JBL
,
Marshall
,
OLED
,
Sony Electronics
,
Soundbar
,
Television
,
Toshiba
,
Virtual Assistant
,
Voice Control
,
Wearable