The NFL and Facebook renewed their video deal through the 2020 season. In the original deal, inked in 2017, the NFL provided recaps from all 256 regular season games plus other content for Facebook Watch. The NFL will continue to supply the season recaps, along with original content, content related to the NFL's 100th anniversary and material from the NFL Films archive featured on "NFL Throwback." Facebook says that, in 2017 and 2018, over 22 million people watched at least a minute of an NFL recap.
Variety reports that, of the unique views, 28 percent of them came from outside the U.S. From 2017 to 2018, unique views of the game recaps grew by 32 percent. NFL's original content for Facebook includes "video clips of NFL Media analysts, reporters and on-air personalities from signature studio shows; video versions of NFL-produced podcasts (aka 'vodcasts') including a weekly video version of 'Around the NFL' with Greg Rosenthal, Dan Hanzus, Marc Sessler and Chris Wesseling."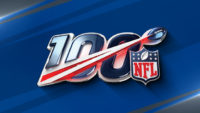 The NFL will also share videos on new Facebook Groups it plans to create around content themes, and will "host a weekly Facebook Watch Party around game recaps throughout the regular season, letting fans watch and chat about the past week's matchups in real-time."
"Facebook continues to be an important partner in accessing millions of highly engaged fans around the world," said NFL vice president of digital media business development Blake Stuchin.
For the 2019 season, Amazon owns the digital distribution rights for "Thursday Night Football" and also globally streams FOX's game telecasts on Prime Video and Twitch. But, the next time the rights to live-stream games comes up, Facebook "may be in the running." NFL also has distribution contracts with Snapchat, Twitter and YouTube, which has an exclusive deal for the docu-series "Game Day All-Day Access" this season.
The NFL's Facebook page has over 17 million followers and its "NFL Game Recaps" show page has 1.2 million. Viewers can access NFL content on Facebook "via Facebook Watch on mobile apps across Apple iOS and Android, on desktop, laptop and on TV apps including Amazon Fire TV, Apple TV (4th generation or newer), Android TV, Samsung Smart TVs (2015 or newer) and Microsoft Xbox One."
Engadget reports that the NFL has "been busy working with social media companies to promote its latest season, dubbed NFL 100." It unveiled an AR Lens for Snapchat "that makes an NFL 100 image come to life in video form" and also introduced a TikTok account that features "highlights and sideline moments."
Topics:
Amazon
,
Apple TV
,
Blake Stuchin
,
Chris Wesseling
,
Dan Hanzus
,
Facebook
,
Facebook Groups
,
Facebook Watch
,
Facebook Watch Party
,
Fire TV
,
FOX
,
Greg Rosenthal
,
Marc Sessler
,
NFL
,
NFL Films
,
NFL Media
,
NFL Throwback
,
Prime Video
,
Samsung
,
Snapchat
,
Thursday Night Football
,
TikTok
,
Twitch
,
Twitter
,
Video
,
Xbox One
,
YouTube