FOX Sports GO is now available on Apple TV, with a full slate of more than 3,000 live events, hundreds of hours of studio content and originals, and a variety of other features. Coverage includes NFL, MLB, UFC, NASCAR, Big 12 and Pac-12 Football, Big East Basketball, FIFA World Cup, and UEFA Champions League soccer. In some areas, viewers will be able to access hometown MLB, NBA and NHL telecasts. Fox previously had an iOS app, but Apple TV viewers will now be able to enjoy multi-screen viewing among other innovations.
TechCrunch explains the split-screen interface that lets viewers watch up to four games simultaneously: "you arrange video feeds side-by-side, picture-in-picture style, or in a mosaic pattern."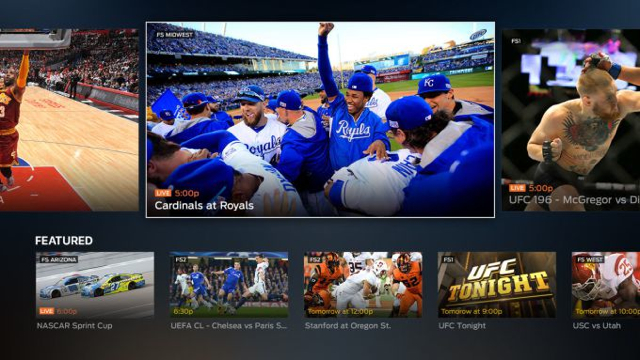 Channels that will stream in multi-view include Fox Sports 1, Fox Sports 2, Fox Soccer Plus, Fox Deportes, Fox College Sports, and "select regional events based on your location." Access to content also depends on the user's cable/satellite pay TV subscription required for authentication.
Cord cutters can sign into the app via Dish's Sling TV, PlayStation Vue, AT&T U-Verse, Bright House Networks, Cable One, Cablevision, Charter, Cox, DirecTV, Google Fiber, Midcontinent Communications, Suddenlink Communications, Time Warner Cable, Verizon FiOS, WOW!, and Xfinity TV.
A free download on the Apple TV App Store, FOX Sports GO is "available to over 95 million U.S. pay TV subscribers."
In addition to multi-view, the Apple TV app provides a 60 frame per second option to "follow fast action on the field more closely," but TechCrunch believes that, "it's the split-screen viewing that will be the big draw here — something that the network says the fans have demanded."
The Fox app is "currently an exclusive to Apple TV, though the network plans to bring it to other streaming boxes in the future." For its part, Apple is tweaking its platform "to make it easier for Apple TV owners to access network TV apps" via a "Single Sign-On" that lets users to authenticate pay TV credentials once rather than for each channel.
Topics:
Apple TV
,
AT&T U-verse
,
Basketball
,
Bright House Networks
,
Cablevision
,
Charter
,
College Sports
,
Cox
,
DirecTV
,
FIFA
,
Football
,
FOX Deportes
,
Fox Soccer Plus
,
FOX Sports 1
,
FOX Sports 2
,
FOX Sports GO
,
Google Fiber
,
iOS
,
MLB
,
NASCAR
,
NBA
,
NFL
,
NHL
,
Pay TV
,
PlayStation Vue
,
Satellite
,
Sling TV
,
Time Warner Cable
,
UFC
,
Verizon FiOS
,
Xfinity TV