Major television networks, such as ABC, Fox and NBC, are debuting their new fall shows online weeks ahead of the television premiere dates. The pilot episodes of NBC's "A to Z," ABC's "Selfie," and Fox's "Red Band Society" are all available on Hulu before their scheduled television air date. This increasingly common practice gives viewers the chance to sample the new shows earlier and start some online buzz before the flood of other pilots debut during the fall television season.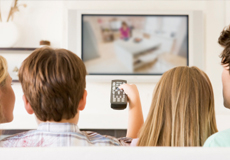 Quartz reports that several more fall pilots will be coming to Hulu and their networks' websites within the next few days and weeks. Most of these shows will make their television debut at the end of September or early October. For now, viewers can watch the pilot episodes on Hulu or the networks' websites.
By using this tactic, networks have the opportunity to attract viewers before the competitive fall television season. However, they also risk losing audiences' interest in the six weeks before the show even starts.
Early online premieres have been relatively successful in the past for AMC, Starz, Showtime and others. The first episode of the Starz original series "Outlander," which was released early, attracted one million online viewers.
Disney uses the strategy for almost all of its shows by allowing viewers to see early previews on the official WATCH Disney app. Other series that made early online debuts this year include "Penny Dreadful," "Halt and Catch Fire" and "Mixology."
Topics:
A to Z
,
ABC
,
AMC
,
Audience
,
Debut
,
Disney
,
Distribution
,
Episodes
,
FOX
,
Halt and Catch Fire
,
Hulu
,
Mixology
,
NBC
,
Networks
,
Online
,
Outlander
,
Penny Dreadful
,
Pilots
,
Premiere
,
Red Band Society
,
Selfie
,
Series
,
Showtime
,
Starz
,
Television
,
TV Shows
,
Viewers
,
WATCH Disney App