FX Network chief executive John Landgraf says there's too much TV, citing the 400+ scripted shows he estimates were made last year. But rather than slowing down on the new programs, media companies including Discovery, Viacom, Starz as well as Amazon and Hulu are all spending more. They're competing for viewers in an increasingly fragmented market — and against Netflix, which has committed $5 billion this year for film/TV projects, and an estimated $11 billion over the next five years.
Bloomberg notes that, prior to Netflix's massive spending on original content, cable companies could still draw viewers by routinely running reruns and less expensive shows. Those days are over. Netflix's large roster of high-quality programming — from "House of Cards" to "Jessica Jones" — has set a new bar, and "it's no longer enough to just offer filler."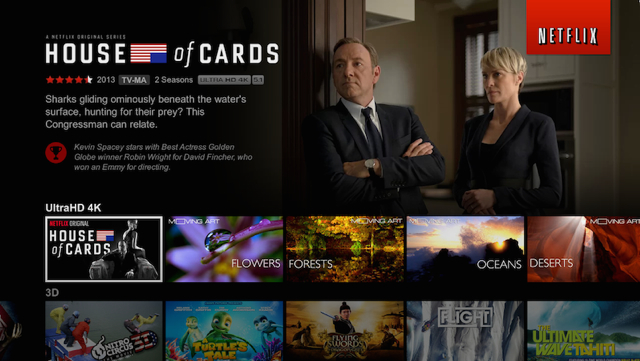 All this spending is great for viewers, who have more choices than ever, but "worrisome for investors who have already sent media stocks tumbling over concerns about shrinking TV audiences and slumping advertising sales." As TV loses viewers, says Cowen & Co. analyst Doug Creutz, networks are trying to entice them with new programs, as well as reach out to international markets and streaming platforms.
To fight the competition, networks are upping their production budgets significantly. Research firm MoffettNathanson projects that, besides sports, Discovery's costs of programming rose 55 percent between 2013 and 2016. Known for its reality TV programs ("Deadliest Catch"), Discovery is moving into scripted programming, developing 10 shows with Lions Gate Entertainment.
Viacom, whose expenses rose more than 25 percent, added a night of original programming on VH1, doubled its Nickelodeon animation capacity, and will air more events on BET and other networks. Starz invested nearly $250 million in original programming last year, with a goal of producing 80 to 90 original program episodes a year, up from about 75 last year.
Bloomberg says all that spending resulted in narrower margins last year at many companies, naming CBS, Discovery, Disney, 21st Century Fox and Viacom. At the same time, the increased number of programs makes it more difficult to have a hit. Even worse, according to Nielsen, all that spending hasn't resulted in bigger audiences. The 18-to-49-year old demographic is down 5 percent for cablecasters and 6.4 percent for broadcasters.
Variety cites a MoffettNathanson study by Michael Nathanson that found "Netflix accounted for about half of the overall 3 percent decline in TV viewing time among U.S. audiences" last year. "Nathanson predicts Netflix's total streaming hours as a percentage of TV viewing will continue to rise to about 14 percent by 2020."
The one bright spot, says Bloomberg, is cable and broadcast networks can also take advantage of "exploding viewing options" by selling shows to streaming services or directly to consumers, domestically and internationally. "The world is getting bigger and bigger and better and better," said CBS chief executive Leslie Moonves. "So you'll see us do more content, but only if we know it's going to be profitable. In most cases, that's the way it is."
Topics:
21st Century Fox
,
Amazon
,
BET
,
CBS
,
Discovery
,
Disney
,
Doug Creutz
,
FX Networks
,
House of Cards
,
Hulu
,
Jessica Jones
,
John Landgraf
,
Leslie Moonves
,
Lions Gate Entertainment
,
Michael Nathanson
,
MoffettNathanson
,
Netflix
,
Nickelodeon
,
Ratings
,
Reality TV
,
Starz
,
Streaming
,
Television
,
The Walt Disney Company
,
TV Series
,
TV Show
,
VH1
,
Viacom