Netflix has scored big with 54 Emmy nominations, compared to last year's 34 nominations. The number of nominations puts Netflix in third place, behind HBO (94 nominations) and FX Networks (56 nominations). Its long-standing series "House of Cards" continued to garner nominations, as did new series "Bloodlines" and "Narcos." Netflix is also besting its competitors in terms of how it creates value for the money it spends on productions, with efficiencies an estimated three-times better than Amazon and Hulu.
Mashable reports that Amazon earned 16 Emmy nominations and Hulu received two. In January, at the Television Critics Association, Netflix stated its intent to spend $6 billion on all content in 2016, "which it expects to translate into something like 600 hours of programming."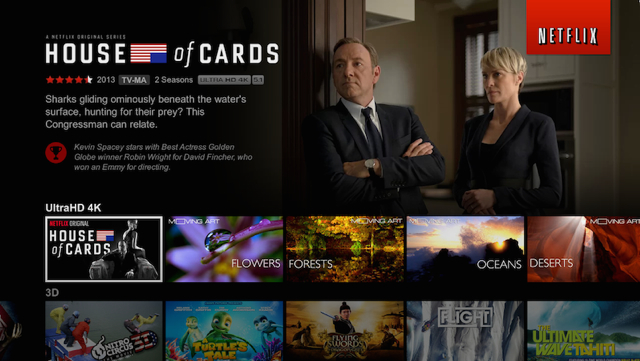 In addition to dramatic series, Netflix also did well in nominations for documentaries ("Making a Murderer" and "What Happened, Miss Simone?") and comedies ("Master of None," "Gracie & Frankie" and "Unbreakable Kimmy Schmidt").
According to Business Insider, UBS has issued a report showing that Netflix is "a lot better than its competitors at wringing value from every dollar it spends on TV shows and movies." Although, according to Morgan Stanley, the company will spend "more than double" than Amazon and Hulu on content in 2016, UBS, led by Doug Mitchelson, made the conclusion, stated above, that Netflix "spends its budget roughly 3x more efficiently than Amazon or Hulu."
UBS arrived at that conclusion by examining the number of viewing hours per dollar spent. Netflix gets 12.5 hours per dollar, compared to Amazon's four hours and Hulu's 3.9 hours. Mashable notes, however, that "part of this could be because Netflix has a lot more reach in terms of audience size, but it could also be because its subscribers just watch a ton of Netflix." UBS analysts found that "daily viewing hours per subscriber" were, indeed, much higher for Netflix than its competition.