Netflix is hoping that offering cinema-like spatial audio on a catalog of more than 700 titles for those who subscribe to its $20 per month premium tier will encourage more customers to upgrade. Spatial audio is engineered to deliver a 360-degree audio experience, including sounds that appear to come from behind the viewer. Customers who subscribe to Netflix's Standard or Basic plans will have access to some spatial audio titles "but only on a small, select number," the company said, describing the audio tech as "a game changer for the Premium plan viewing experience." Netflix Premium already supports 4K, HDR, Dolby Atmos and Netflix Calibrated Mode.
Spatial audio can be achieved with the built-in stereo speakers of virtually any device, including televisions, computers, tablets and laptops. "That said, according to the company, its support of spatial audio is primarily optimized for laptops and tablets," writes Variety.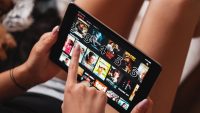 Netflix announced its plan for spatial audio in July, leveraging Sennheiser's AMBEO 2-Channel Spatial Audio to mix down immersive sound to two-channel audio. As an added sweetener for Premium subscribers, Netflix is also increasing the number of download devices from four to six for offline viewing. Netflix Standard permits just two devices to simultaneously download, while Basic allows for one and Basic with Ads doesn't have download capability.
"With people more connected than ever through multiple devices, we've learned through research that members would like the option to download Netflix series and films to watch offline on more devices, particularly as they travel and switch between devices," according to Rishu Arora, director of product management, in a blog post.
"Regardless of which plan a user has, they can have up to 100 active downloads per device," TechCrunch reports, extrapolating that "Premium subscribers can have a total of 600 active downloads across all their devices." But not all Netflix titles are offered for download. "Also, some downloaded titles disappear after a certain amount of time," TechCrunch says.
To see the full list of titles with spatial audio, just type "spatial audio" into the search bar on Netflix, Arora explains. Titles include catalog favorites such as "Stranger Things," "The Watcher," "Wednesday" and "Glass Onion." The company will also continue adding it to new programming as it's released.
Topics:
4K
,
AMBEO
,
Audio
,
Computer
,
Dolby Atmos
,
Download
,
Glass Onion
,
HDR
,
Immersive
,
Knives Out
,
Laptop
,
Movie
,
Netflix
,
Netflix Premium
,
Sennheiser
,
Sound
,
Spatial Audio
,
Stereo
,
Stranger Things
,
Streaming
,
Subscription
,
Tablet
,
Television
,
The Watcher
,
TV Series
,
Wednesday