Epic's Unreal Engine is best known as a game engine, but general manager Marc Petit introduced the company's enterprise division, which focuses on everything but games. This was Unreal Engine's first-ever NAB, but for Petit, who worked many years at Softimage and attended numerous NABs, the meeting of the digital image and the game engine was more than symbolic. He used the press conference to showcase the work of several media and entertainment partners, including VizRT, The Future Group, House of Moves and Ross Video.
First, Epic Games director of cinematic productions Michael Gay showed off how his company partnered with Chevrolet and The Mill to create "The Human Race" (below), a short video that depicts two racing cars. Using The Mill's Blackbird car rig and Cyclops real-time viewing tool, the Unreal Engine was able to render the CG car onto the rig in real time, tracking and stitching also in real-time.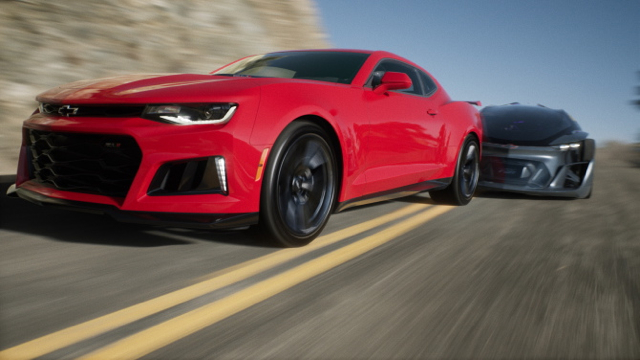 Vizrt showed the fruits of having integrated the Unreal Engine into its Viz Virtual Studio workflow, where the real-time rendering helps broadcasters create interactive 3D virtual sets. Among the users are Fox Sports, BBC News, The Weather Channel and CNN. Vizrt also debuted an extension to Unreal Engine that combines broadcasting and the game engine for "The Big AR Show," a live augmented reality show.
Photorealistic virtual studio company Zero Density introduced version 2 of its tool, Reality 2.0, with HDR and 4K UHD support. The company also showcased an intricate VR set of the French presidential office, which France Télévisions used for the recent elections.
The Future Group, a content company that creates its own technology, used Unreal in combination with its own technology (Interactive Mixed Reality, or IMR) to create more than one project. With Fremantle Media, said The Future Group chief operating officer Halvor Vislie, the company developed "Lost in Time," and produced eight 45-minute episodes, entirely rendered through Unreal. In the reality show, contestants compete in spectacular virtual environments.
"It's fully interactive," said Vislie, who noted that, "TV, mobile games and digital advertising create a powerful ecosystem … That ecosystem allows us to gather information on the size and demographic of the audience, and getting that knowledge in real time is critical for advertisers." A second Future Group project, in collaboration with Ross Video, also enabled life-like sets. "We can move TV content onto mobile devices or tablets, and make an experience that corresponds to what you're watching on TV turning the viewer into an active participant," Vislie explained.
House of Moves founder/chief executive Brian Rausch showed how his company used Unreal Engine to work with Mattel on Barbie Vlogger. "At the New York Toy Fair, we had to do 11 Barbies with 50 different styles for each shot and of course executives had to see 8K versions once or twice every day," said Rausch. "It isn't possible to do that through a traditional render pipeline."
Having made its debut in the media and entertainment market at NAB 2017, Unreal Engine is poised to make greater inroads.
Topics:
3D
,
4K
,
8K
,
Augmented Reality
,
Barbie Vlogger
,
BBC News
,
Brian Rausch
,
Chevrolet
,
CNN
,
Epic Games
,
FOX Sports
,
Fremantle Media
,
Halvor Vislie
,
House of Moves
,
IMR
,
Lost in Time
,
Marc Petit
,
Mattel
,
Michael Gay
,
NAB 2017
,
Ross Video
,
Softimage
,
The Big AR Show
,
The Future Group
,
The Human Race
,
The Mill
,
The Weather Channel
,
Unreal Engine
,
Virtual Reality
,
Viz Virtual Studio
,
Vizrt
,
Zero Density