At NAB in Las Vegas, Technicolor gathered group chief technology officer Cristina Gomila, group SVP/CTO home division Jon Walkenhorst and Technicolor Experience Center head Marcie Jastrow to talk about the company's work in immersion, 360-degree video, virtual reality and other nascent technologies. Jastrow pointed out that these are early days for virtual reality. "The technology is still rough and delivering experiences to headsets isn't easy," she said. Yet Technicolor has been involved in 18 VR projects in the last year.
Jastrow reported on the value of being involved in ETC's "Wonder Buffalo" to learn more about volumetric capture; VR projects at The Mill and Gomila's France-based I&R team have also bolstered the company's knowledge base. "One of the missions is to evolve creative workflows into VR workflows," she said. Gomila added that, "We started with 360 and then tried to find out if we could interact, can we make it social."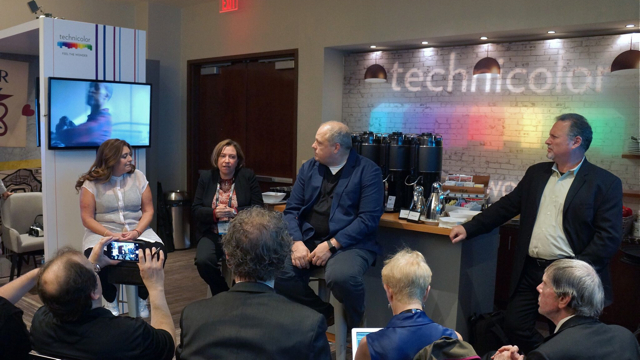 "We're going from VR to AR and then mixed reality," she said. "That's when you embed digital objects in the real world. That's our long-term challenge. The prototype won't happen tomorrow, but we want to create conversation about the challenges."
All panelists stressed that an open conversation among all players in the VR and AR field is essential for the entire segment to evolve. "We need industry-wide collaboration," said Gomila. "We have to make sure everyone contributes to ensure interoperability and a seamless experience over many different devices."
It's not just the technology that's rough. "One of the frustrations is the absence of an ecosystem for the experiences to be consumed in the home," said Gomila. "We have absurd economic value propositions today: content that's expensive and requires expensive hardware."
Delivering content to the home is Walkenhorst's concern. "More and more of the content will be consumed within the home," he said. "We want to put more data and computing to the edge so the technology to create the content meets the distribution of content."
He described the efforts to drive more computing to the edge via Amazon Web Services' Greengrass. "If we could find a way to do this, we could enable more services," he said. "We're opening new doors starting with IoT. " To do so, he continued, Technicolor is "at the forefront of ATSC 3.0," looking at fixed wireless broadband, and also working with chip manufacturers to deliver 5G.
Jastrow says the idea of the Technicolor Experience Center is "to create content on site, iterate and then deliver it." "We want to find the tools within the workflow to understand the end-to-end solution," she said.
That has included bringing in partners to solve specific problems. She named HP for platforms, Vicon for motion capture and Unreal Engine as some of the ones that have helped to create "an open agnostic environment." The Technicolor Experience Center will officially open in June; Technicolor executives also hinted that a "blockbuster initiative" will also be announced in the near future.
Topics:
360-Degree Video
,
5G
,
Amazon Web Services
,
ATSC 3.0
,
Augmented Reality
,
Broadband
,
Cristina Gomila
,
ETC@USC
,
Greengrass
,
HP
,
IoT
,
Jon Walkenhorst
,
Marcie Jastrow
,
Mixed Reality
,
NAB 2017
,
Technicolor
,
Technicolor Experience Center
,
The Mill
,
Unreal Engine
,
Vicon
,
Virtual Reality
,
Volumetric Capture
,
VR Headsets
,
Wireless
,
Wonder Buffalo