A surprisingly large number of people, at times as many as 100, stayed at NAB through Thursday afternoon to attend the 2-day Disruptive Media Conference produced by Ned Sherman and Digital Media Wire. Executives from companies such as Sony, Adobe, Rentrak, Scripps, StumbleUpon, nScreenMedia and others discussed the current impact of disruptive media and what they anticipate for the future.
Sony's Mitch Singer helped frame up the topic of the initial panel, "How to Successfully Harness Disruption," by positing that there are two types of innovation: competitive and parasitic. Competitive innovation adds value to the ecosystem by making it possible to do things faster, cheaper, better and more efficiently. Parasitic innovation, such as pirate content and software sites, free ride on the work of others while sucking value out of the ecosystem.
Greg Philpott of mDialog Corp. advised the audience to follow the money and do what you know.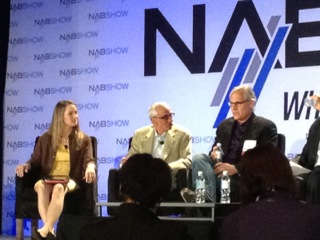 Mitch noted that maintaining trade secrets is probably a more important near-term strategy than relying on patent protection, since the patent office moves incredibly slowly relative to the pace of innovation and business activity. If you want to use the patent system defensibly, he added, think about how your business could be disrupted and patent that idea.
Chris Mahoney, director of Emerging Platforms for Sony's PlayStation group noted that gaming and content are now divorced from the hardware. Gaming is no longer tied to consoles, and consoles are becoming general entertainment and social media devices.
Adobe's Jeremy Helfand, VP Video Monetization, noted that 10 percent of online video viewing in the U.S. is done on mobile devices, over 50 percent of authentications now come from tablets, and 97 percent of children's content goes to an iOS device. Even as more content is coming online, CPMs are staying firm. Ad production appears to be standardizing on 15 second or 30 second spots.
The greatest challenge, according to Jeremy Helfand and other panelists, remains content discovery. StumbleUpon's Teal Newland commented that it is getting harder to find trusted sources for discovery. Search results need to be unbiased if they expect to maintain consumer trust, she said. Gracenote CTO Ty Roberts pointed out that content silos that put up obstacles to data crawling exacerbate the problem. "It is as if there were no TV Guide," he said.
Samsung's Adam Sexton suggested that recommendations should take screen size into account. Teal countered that "you have to own the format, not the destination." Comedy and bizarre oddities are StumbleUpon's biggest categories.
Barry Blumberg, president of SMOSH, said that it is unlikely that recommendation engines for content will be successful for the foreseeable future because they cannot deal with the nuance of program selection; the understanding that the person likes a specific characteristic of a program, and not just the genre or other generic aspect of it.
When it comes to second screen, or apps development, in many instances they are the stepchild of the production. It is not clear if they fall under TV production, IT, or some other group, said Scripps Networks Interactive SVP Channing Dawson. "Who has the incentive to produce the second screen app?" he asked. There may be some form of joint incentive program evolving.
Many panelists commented that metrics to define and measure success on the second screen are needed. Rentrak president Cathy Hetzel stressed that they are currently gathering data from 30,000 U.S. households. Rentrak tracks usage on multiple platforms, including tablets and PCs. Right now the data they gather is fairly coarse; such as whether a second screen app is being used. In the future they hope to develop more granular analysis, so that they can say what types of second screen engagements work with different types of primary experiences.
One thing is clear: the second screen app "should not curate a linear experience… It should bring something unique," said Dawson. It should "amplify the TV experience."
Colin Dixon, chief analyst for nScreenMedia, added that five years from now there will be transmedia that won't make sense just viewing the TV portion.
Monetization of disruptive content types remains challenging. "You have to get a lot of people to come to YouTube to make the production cost make sense, said Barry Blumberg. His programs are very carefully developed for a known audience and released on a regular schedule. In short, he sees the road to his success as translating the traditional media model to the digital space using lower budgets while maintaining high production values. But, he added, their website earns an equal amount of money for them as their YouTube videos.
Topics:
Adobe
,
Blumberg
,
CPM
,
Dawson
,
Digital Media World
,
Disruption
,
Disruptive
,
Disruptive Media
,
Helfand
,
iOS
,
IT
,
mDialog
,
NAB
,
NAB 2013
,
nScreenMedia
,
Panel
,
PlayStation
,
Rentrak
,
Scripps
,
Sexton
,
Singer
,
Smosh
,
Sony
,
StumbleUpon
,
TV
,
Video
,
YouTube