A number of interesting camera and related 4K technologies were on display at last week's NAB show in Las Vegas including Blackmagic's new $995 Pocket Cinema Camera, the Production Camera 4K from Blackmagic, Phantom's Flex4K Digital Cinema camera, two new 4K projectors from Christie capable of 60 frames-per-second, and a proof of concept trifocal camera system from Germany's Fraunhofer Heinrich Hertz Institute.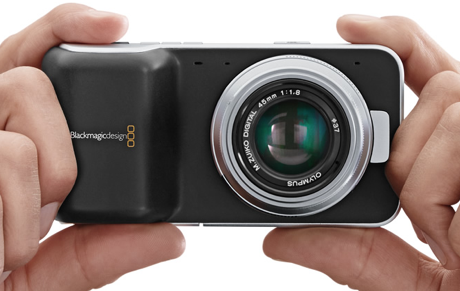 Blackmagic's Pocket Cinema Camera (pictured right) features "a Super-16 Cinema 1080HD sensor with 13 stops of dynamic range, CinemaDNG RAW recording, SD card storage, Micro HDMI monitoring and a Micro Four Thirds lens mount," reports Engadget. "Naturally, the camera isn't as capable as Blackmagic's pricier NAB model, the Production Camera 4K, which also made its debut."
The $3,995 4K camera offers "a Super 35 sensor with native Ultra HD and 4K support, a built-in SSD recorder, compressed CinemaDNG RAW and compatibility with EF lenses."
Both cameras are available for pre-order and are expected to ship by July 25.
Phantom launched its Flex4K Digital Cinema camera (pictured below), which starts at $110,000. The Flex4K "builds on its Phantom Flex predecessor with up to 1,000 fps in 5-second bursts at 4K, 2,000 fps in 2K and 3,000 fps at 720p resolution — speeds that'll net you almost three minutes of 4K video when played back at 24 fps," reports Engadget. "The full 16:9 Super 35 sensor-equipped model can be had with PL, PV Canon EOS or Nikon F/G mounts and will capture RAW or compressed footage in an 'industry-standard,' but as-yet-unspecified format."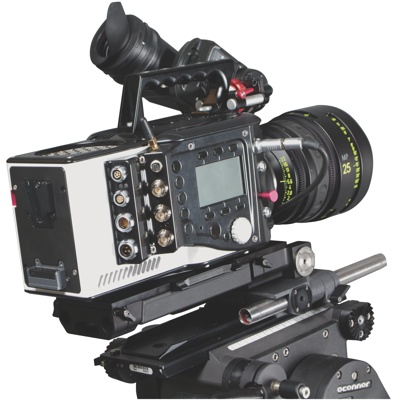 You can check out some impressive test footage shot with the Flex4K on Vimeo.
"Christie Digital Systems introduced two new 4K projectors capable of 60 fps — a 'world's first,' according to the manufacturer. Unveiled on the NAB show floor, the 35,000-lumen and 25,000-lumen models display extremely crisp and bright images — big-budget car commercials and surfing footage basically pop off the screen," notes Engadget, which also posted a video demo.
The projectors are available for pre-order at $125,000 for the 25,000-lumen D4K2560 model and $161,000 for the 35,000-lumen D4K3560.
German research organization Fraunhofer Heinrich Hertz Institute showed a proof of concept trifocal camera system that it is currently developing with Walt Disney Animation Studios Research and camera maker ARRI. "The  camera uses a 'hybrid 2D/3D' approach to capturing 3D that effectively combines 3D cinematography with 2D-to-3D conversion," writes Carolyn Giardina for The Hollywood Reporter.
The system uses a rig that includes an ARRI Alexa as the main camera and two small IndieGS2K cameras. "During post-production, depth maps are estimated from the recorded material, which enable the generation of stereo content," notes Giardina.
"[The trifocal camera approach] is much more cost efficient than classic conversion because you capture information that helps to calculate depth," explained Peter Kauff, head of the immersive media & 3D video group at Fraunhofer. "Sometimes it will be fully automatic, or it will need some manual work [such as rotoscoping], but the manual work is reduced considerably and that reduces costs."
Disney plans to produce a short film with the system, which could possibly be used for feature production.
Topics:
4K
,
Alexa
,
ARRI
,
Blackmagic
,
Camera
,
Christie
,
Digital Cinema
,
Disney
,
Flex4K
,
Fraunhofer
,
HD
,
Heinrich Hertz
,
Las Vegas
,
NAB
,
NAB 2013
,
Phantom
,
Projector
,
Trifocal
,
Ultra HD