AllThingsD editors Walt Mossberg and Kara Swisher are leaving News Corp. at the end of the year, and have reportedly completed a deal with NBCUniversal for a news and conference business. Mossberg and Swisher will have majority control over the company while NBCUniversal and another unnamed investor will share one-third of the business, according to an unidentified source. Most of the current AllThingsD staff is expected to join the new holding company.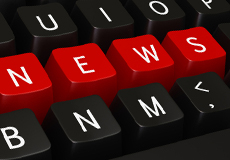 "The deal provides NBCUniversal, owned by Comcast Corp., with a bigger entry into technology coverage and potentially gives the startup's stories exposure on CNBC, NBC News and MSNBC," reports Bloomberg. "The test for Mossberg and Swisher, who co-manage AllThingsD's news and conference operations, is whether they can duplicate the success they had building the original business — while also competing with former parent News Corp."
"It's like they're moving from one fast-moving train to another," said Ken Doctor, a media analyst with Outsell Inc. "It's a good fit for Walt and Kara, and it has a lot of potential. NBC is one of the few that has reach and money and is newly appreciative of content."
Mossberg and Swisher agreed to sever ties with News Corp. in September and sought out investors for the startup, which they valued at $25 million to $35 million. AllThingsD, a profitable unit of News Corp., was generating about 14 million dollars in annual sales and 5.5 million in profit.
"The company's main conference would typically sell out its 500-seat event at about $5,500 per ticket," notes the article. "AllThingsD also hosts other events focused on media, the mobile industry and China."
Mossberg and Swisher were not able to agree to terms with News Corp. to retain the brand, according to insiders. The startup will employ the AllThingsD staff, and the business will be called Revere Digital after Revolutionary War hero Paul Revere.
Topics:
Advertising
,
AllThingsD
,
Analyst
,
Business
,
China
,
CNBC
,
Comcast
,
Conference
,
Deal
,
Doctor
,
Editor
,
Editors
,
Event
,
Exit
,
Invest
,
Investor
,
Mobile
,
Mossberg
,
MSNBC
,
NBC
,
NBCUniversal
,
News
,
News Corp
,
Outsell
,
Paul Revere
,
Revenue
,
Revere Digital
,
Revolutionary
,
Sales
,
Startup
,
Swisher
,
Technology
,
Ticket