Millennials have more smartphones than any other age group in the U.S., currently at 85 percent. Statistics show that nearly 43 percent of these users opt for iPhones while 52 percent prefer Android devices. The choice to use Android is based on cost rather than software or hardware. Millennials spend 37 hours per month on their phones, most commonly engaged with social networking, entertainment and messaging. Users 25 to 44 use the most apps, an important statistic for developers.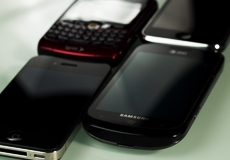 "It's worth also pointing out, on the eve of Apple's big iPhone 6 reveal [today], that the smartphone in question is more likely to be an Android phone," reports TechCrunch. "Nielsen notes that over half (52 percent) of U.S. smartphones run Android, with Apple iOS accounting for a 42.7 percent share, and 'other' OS's (Windows Phone, Blackberry, etc.) making up the rest."
Viewers are spending less time at the television and more time online watching digital video. These numbers are growing most rapidly for adults over 35.
"The overarching data suggests that the growth of media consumption is and will continue to be in digital for all consumers," notes Dounia Turrill, senior vice president for insights at Nielsen. "We can surmise that having tasted the freedom of choice, the American consumer will not go back to old ways."