As promised, Microsoft announced its Xbox One yesterday, the successor to the Xbox 360 and the company's eighth generation gaming console. Scheduled for release by the end of this year, the Xbox One will compete with Nintendo's Wii U and Sony's upcoming PlayStation 4. While the update touts plenty of power and rich features for gaming, Microsoft is emphasizing the Xbox One as a lifestyle device designed for streaming an array of entertainment media.
"Design and build an all-in-one system to light up a new generation of games, TV and entertainment," in a way that is "simple, instant and complete" is how Don Mattrick, head of Microsoft's interactive entertainment business, characterized the Xbox One's mission during the event in Redmond, Washington.
Not surprisingly, the console is billed as "the all-in-one entertainment system" on the Xbox One site: "Xbox One is a state-of-the art gaming console, a new generation TV and movie system and a whole lot more. Gone are the days of switching inputs on your TV to play a game or watch a movie. With Xbox One, you can quickly jump from TV to movies to music to a game. Just with the sound of your voice."
The strategy makes sense considering the new console will enter a market that is significantly different from the one the Xbox 360 faced eight years ago. Now we have sophisticated tablets, smartphones and mobile gaming that compete with consoles.
"Today, video games can be played almost anywhere, on any device, with the biggest possible audience of online friends and without the aid of a costly gaming console," notes The New York Times. As a result, Microsoft has retooled the Xbox to serve as the center of our home entertainment systems and an easy-to-use mechanism for streaming online video.
"Microsoft plans to develop its own original, live-action television series, which will be accessible through the Xbox. The series will be made in partnership with the director Steven Spielberg and will be based on the popular Halo video game franchise," notes NYT. "The company is also working with the National Football League to develop an app for Xbox that lets players interact with their fantasy football teams while watching a live game."
Kinect is part of the new console package, which features voice controls and gesture recognition. And the Kinect has been updated to capture 1080p video. There is also a Snap Mode feature, similar to the Windows 8 experience, that allows users to simultaneously run two activities — such as surfing the Internet while watching a movie, or using Skype, which is newly introduced to the Xbox.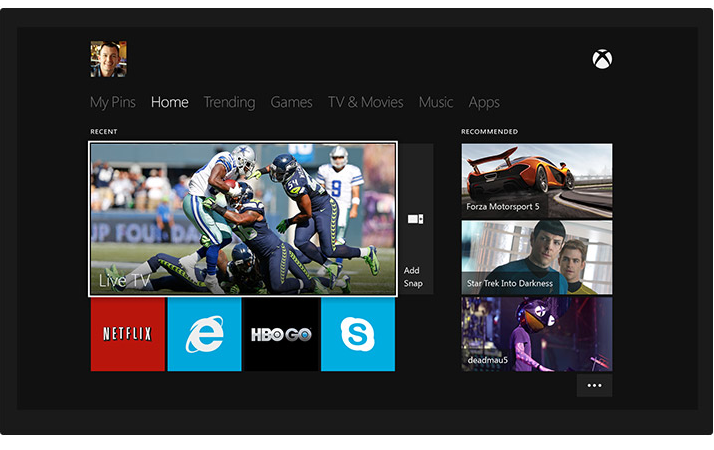 "The Snap Mode feature does something that has until now mostly been reserved for computers and for mobile and tablet devices: provides a second-screen experience that runs right alongside things like live TV," reports TechCrunch. "Adding basically a HUD layer to live TV might be the Xbox One's biggest appeal for content providers who are looking for additional ways to engage audiences losing interest in traditional ads."
"The Xbox One has 8GB of RAM, along with a Blu-ray drive, as well as a native 64-bit architecture, a 500GB onboard hard drive, HDMI in and out (including passthrough capabilities for use with your existing home theatre setup), 802.11n Wi-Fi as well as an 8-core CPU and USB 3.0 connectivity," details TechCrunch.
"We have no idea what the videogame landscape will look like seven years from now, just as we had no idea in 2005 how foundationally streaming and smartphones would change everything," reported Wired in its exclusive first look at the Xbox One (the detailed article includes videos). "The very concept of any physical media box may well be obsolete within a decade. But even if this is the last true console we ever see, one thing is for sure: Gaming isn't just games anymore. And the Xbox One intends to keep it that way."
"Microsoft makes both hardware and software — and does it well — but the company also knows that it doesn't have the install base to lock down the experience," notes the article. "And more important, it's lacking connective tissue. If its investment in Azure lets the cloud become that tissue, then the Xbox One could be the hub of the integrated experience Microsoft sorely needs."
Topics:
1080p
,
Ads
,
Advertising
,
Azure
,
Blu-ray
,
Console
,
Football
,
Game
,
Gaming
,
Gesture
,
Halo
,
Hardware
,
Kinect
,
Live TV
,
Microsoft
,
Mobile
,
Motion
,
Movie
,
NFL
,
PlayStation
,
PS4
,
Skype
,
Smartphone
,
Social
,
Spielberg
,
Sports
,
Stream
,
Streaming
,
TV
,
Video
,
Voice
,
Wii U
,
Windows
,
Windows 8
,
Xbox
,
Xbox One