Magic Leap and Apple are the two technology companies currently at the forefront of augmented reality, but, behind the scenes, Microsoft has also been working on AR for years. It's easy to discount Microsoft, since its HoloLens AR headset is squarely aimed at the enterprise sector. But the company also has its sights set on the consumer market. In addition, Microsoft has started to leak details about its upcoming Project xCloud cloud-based game streaming system. Project xCloud will enter beta testing this year.
Variety reports that, last month, when Microsoft showed off its HoloLens 2, Microsoft technical fellow for AI and mixed reality Alex Kipman appeared with Epic Games chief executive Tim Sweeney — not just to promote HoloLens support for the Epic Game engine, but to hint that "Microsoft had planned a gamer-ready HoloLens device for the near future."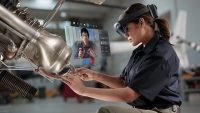 Microsoft is mum on any details of a consumer-facing AR device, so Variety drew conclusions from the HoloLens 2: "an all-in-one AR headset, capable of overlaying holograms over your view of the real world … significantly more comfortable than the original … and it features more than double the field of view of the original HoloLens."
The second-generation device also includes integrated eye-tracking technology and advanced hand tracking, "which makes it possible to touch and interact with holograms in a whole new way." More specifically, it tracks 25 joints in each hand, for a much more natural experience. Microsoft also debuted Spatial Anchors, "its take on the AR cloud," that lets developers "build persistent, shareable AR experiences that are tied to specific locations."
Microsoft has its San Francisco-based Mixed Reality Capture Studios to capture 3D holograms. In addition to Microsoft's studio, its technology is the foundation of two studios, in Los Angeles and London. All these developments "hint at a future in which Microsoft wants to be able to … build mass-market AR devices with proven interaction models, power them with the necessary infrastructure for planet-scale AR experiences, and have enough content available to make them enticing for consumers."
The Hollywood Reporter details Microsoft head of gaming cloud Kareem Choudhry's description of Project xCloud, "a cloud-based streaming service that will enable you to play anywhere we have a client." He added that the cloud service isn't a replacement for consoles, but instead offers gamers another choice. Project xCloud, which "will begin public trials this year," will ultimately compete with gaming services in development from Amazon, Apple, Google, and Verizon.
Topics:
Alex Kipman
,
Amazon
,
Apple
,
AR Headset
,
Augmented Reality
,
Beta
,
Cloud
,
Enterprise
,
Epic Games
,
Eye Tracking
,
Game Console
,
Gaming
,
Google
,
Hand Tracking
,
Hologram
,
HoloLens
,
HoloLens 2
,
Kareen Choudhry
,
Magic Leap
,
Microsoft
,
Mixed Reality Capture Studios
,
Project xCloud
,
Spatial Anchors
,
Streaming
,
Tim Sweeney
,
Verizon