Meta Platforms is reportedly ceasing production of consumer version of its Portal video calling device, but will continue manufacturing the Meta Portal (formerly Facebook Portal) — which can connect up to 50 participants — for business use, according to recent reports. The company is also said to be cutting back on Reality Labs investments, reportedly shelving plans to release the augmented reality glasses developed under the codename Project Nazare, expected to come to market in 2024, and is skipping ahead to a more advanced, second generation version.
In February Meta stock plunged 25 percent — a $230 billion valuation decline — following revised Q1 guidance. Subsequent to that dour update, Meta "scaled back total-year expenses to a range of $87-$92 billion from the prior outlook of $90-$95 billion," according to Investor's Business Daily. The redirection of manpower and resources appears to be the result of that reduction.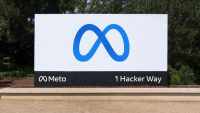 Citing a report in The Information, Yahoo Finance writes that Meta "no longer plans to commercially release" the Project Nazare AR glasses and will instead use them as "a demonstration product as it shifts its augmented reality glasses plans "to prioritize the release of the second version of the AR glasses, codenamed Artemis."
The Meta Portal combines work and play, supporting both Amazon Alexa voice assistant and Zoom videoconferencing, while also offering entertainment functionality, with "access to Netflix, Amazon Prime Video, Paramount+ and Showtime, as well as Spotify, Pandora and iHeartRadio (and, of course, Facebook Watch)," according to Variety, which details configurations ranging in price from $99 to $349, and says the company plans to sell-off existing inventory.
Bloomberg reports that Meta has also "halted development of a smartwatch with dual cameras and is instead working on other devices for the wrist." The device, said to have been in development for the past two years, "was designed to include several features common in other smartwatches, including activity tracking, music playback and messaging," Bloomberg writes, detailing several new features that "will likely still appear in future products."
Cost-cutting measures could also include a reduction in news expenditures, according to The Wall Street Journal, which writes that "Facebook is re-examining its commitment to paying for news." Facebook "has paid average annual fees" of more than $10 million to WSJ itself, $15 million to The Washington Post, and $20 million to The New York Times. Facebook's dedicated News section curates articles for users without a paywall.
WSJ says Facebook is now "looking to shift its investments away from news and toward products that attract creators such as short-form video producers to compete with ByteDance Ltd.'s TikTok." Last month, Facebook News architect Campbell Brown — veteran of NBC and CNN — took on expanded duties overseeing global media partnerships, which includes everything from movie studios to sports leagues.
Investor's Business Daily notes that "Meta stock has crashed more than 50 percent from last year's trillion-dollar peak amid worry that the sun has set on Facebook's dominance of social media." The company's adjustments to slowed revenue growth also include hiring freezes, Business Insider reported last month.
Related:
Meta-Morphosis or More Pain? Possible Futures for Facebook's Parent Company, The Wall Street Journal, 6/11/22
Topics:
Alexa
,
Amazon Prime Video
,
AR Glasses
,
Artemis
,
Augmented Reality
,
ByteDance
,
Campbell Brown
,
CNN
,
Facebook
,
Facebook News
,
Facebook Watch
,
iHeartRadio
,
Meta Platforms
,
Meta Portal
,
Movie Studios
,
NBC
,
Netflix
,
Pandora
,
Paramount Plus
,
Portal
,
Project Nazare
,
Reality Labs
,
Showtime
,
Smartwatch
,
Social Media
,
Spotify
,
TikTok
,
Videoconferencing
,
Zoom