Netflix has unveiled new mobile game titles, including some derived from the streamer's popular shows. Games developed from "The Queen's Gambit," "Too Hot to Handle" and "Shadow and Bone" join a gaming lineup that Netflix hopes to grow from an existing library of 22 to at least 50 titles by December, the company revealed at its annual Geeked Week virtual event, which wrapped on Friday. The games are available on iOS and Android, requiring users to authenticate their Netflix accounts. The streamer also introduced game-inspired animated series, including "The Cuphead Show!" and "Sonic Prime."
Developed by UK-based Ripstone, the new "The Queen's Gambit: Chess" game lets players take chess lessons, play matches, compete against friends and experience Beth Harmon's world when it launches later this year.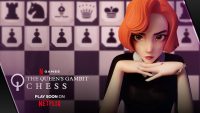 "Shadow and Bone: Destinies" is described by TechCrunch as "a single player role-playing game" that will allow players to become their favorite characters "and travel across the world of the Grishaverse in a narrative adventure to fulfill their destinies." Players will make decisions affecting the course of their journey for this product of Germany's Chimera Entertainment.
Developed by Croatia's Nanobit and based on the streamer's reality series of the same name, "Too Hot to Handle" lets players "meet and mingle with others who are all vying for their affection." Colombian developer KillaSoft created a game spun-off from Spanish heist show "La Casa De Papel" ("Money Heist"). The game lets players help "rob a shady billionaire's casino in Monaco," according to TechCrunch.
Netflix is also adding games from indie publisher Devolver Digital, reports The Verge, listing new entries including "Reigns: Three Kingdoms" and "Raji: An Ancient Epic."
Game trailers as well as those from the new shows are available as part of Netflix's Geeked Week wrap-up. Geeked Week also presented first-looks at anime series adaptations of iconic Japanese fighting franchises "Tekken" and "Dragon Age." "Netflix has done right by animated game spinoffs so far," writes PC Magazine, which is "psyched" for the latter series.
Topics:
Android
,
Chimera Entertainment
,
Devolver Digital
,
Dragon Age
,
Geeked Week
,
iOS
,
La Casa de Papel
,
Mobile
,
Mobile Games
,
Nanobit
,
Netflix
,
Raji: An Ancient Epic
,
Reigns: Three Kingdoms
,
Ripstone
,
Series
,
Shadow and Bone
,
Sonic Prime
,
Spiritfarer
,
Streaming
,
Subscription
,
Tekken
,
The Queen's Gambit
,
Too Hot To Handle
,
Video Games