Meta Platforms last week threw open the doors to its "Horizon Worlds" virtual reality, online video platform. The collaborative environment has been in private beta since 2019 and had required an invitation to join. Now adults in the U.S. and Canada can download the free "Horizon Worlds" app and experience CEO Mark Zuckerberg's vision of the metaverse, as long as they have a Meta Quest 2 and a Facebook account. The playground lets users build things and virtually hang out with as many as 20 people in an environment that feels like being dropped into the OASIS of "Ready Player One."
Meta said it "plans to spend at least $10 billion this year on Reality Labs, its metaverse division tasked with creating AR and VR hardware, software, and content," The Verge reported in October. Earlier that month it announced a $10 million creator fund for "Horizon Worlds." Jet packs, a flying cat-craft, and levitating participants are some of what's seen in "Horizon Worlds."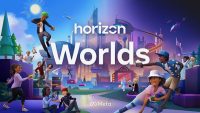 Meta is debuting the "Arena Clash" team-based 3v3 laser tag game inside "Horizon Worlds." The company is also launching new mechanics and templates creators can apply when building their own games for the community to play.
"Our vision for 'Horizon Worlds' is to develop a VR space with best-in-class tools for creators to build words and explore together," Meta says in its news release.
A variety of compelling games have been developed during the beta period. "In the past two years, its beta testers have held regular comedy shows, movie nights, and meditation sessions," The Verge reports. "They've also built elaborate objects like a replica of the Ecto-1 from 'Ghostbusters.'"
A tour guide at TechCrunch describes the experience of visiting the Plaza, a community space created by Meta: "Our legless avatar threw paper airplanes with strangers and even spoke with a community moderator, who chatted with newcomers and helped explain how the controls work. It was a weirdly pleasant experience, absorbing the futuristic scenery and listening as people around us chatted about their avatars' outfits, making metaverse small talk."
Comparing the user experience of "Horizon Worlds" with "Horizon Venues" — Facebook's Quest-based virtual event app — TechCrunch says, "'Horizon Worlds' is a massive step up" and may render "Horizon Venues" obsolete.
Meta is emphasizing safety for its worlds, complete with a Conduct in VR Policy and a "personal safety zone" it says is always only a wrist-tap away. But there is debate on the challenges of security in a virtual world.
CNET reports that in the metaverse, "a 3D digital world where people can play, work, learn and socialize — content moderation will only get more complex," citing internal Oculus Quest research indicating that "the sense of presence in VR makes harassment feel more 'intense.'"
Topics:
Arena Clash
,
Augmented Reality
,
Avatar
,
Beta
,
Creator Fund
,
Facebook
,
Ghostbusters
,
Horizon Events
,
Horizon Worlds
,
Mark Zuckerberg
,
Meta
,
Meta Platforms
,
Meta Quest 2
,
Metaverse
,
Ready Player One
,
Reality Labs
,
Safety
,
Security
,
Social Media
,
Video
,
Virtual Reality
,
Virtual World
,
VR Headset
,
VR Safety