After three straight quarters of declining revenue, Meta Platforms posted a 3 percent year-over-year gain in Q1, for a total of $28.6 billion. Earnings fell by 24 percent, to $5.7 billion, due in part to restructuring charges. But the bad news was offset by strong user growth, including 37 million daily active users for Facebook, up 4 percent from Q1 2022. The results beat Wall Street expectations and exceeded Meta's own guidance. Meta CEO Mark Zuckerberg called it "a good quarter," adding that "our AI work is driving good results across our apps and business."
Zuckerberg also took time to tout achievements in what he said would be a year of efficiency. "When we started this work last year, our business wasn't performing as well as I wanted." Two out of three planned waves of layoffs later — with the third hitting in May — Zuckerberg said on the earnings call that the company is now "increasingly doing this work from a position of strength."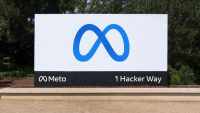 Meta has announced the elimination of more than 21,000 jobs in the past six months — about 30 percent of its workforce. Headcount was 77,114 as of March 31, 2023, a decrease of 1 percent year-over-year, the company said in its earnings release.
"Challenges, after years of unbridled growth, have raised questions about Meta's future and its vulnerabilities," The New York Times writes, noting that "Zuckerberg said in a call about the financial results that he had no intention of dropping his pursuit of the metaverse and that it remained a long-term goal."
Meta's Reality Labs Q1 revenue shrank by 71 percent year over year, to $339 million, while operating losses ballooned to $3.99 billion, an increase of more than 29 percent from $2.96 billion during the same period in 2022.
Meta CFO Susan Li addressed speculation the company will soon begin hiring by saying she expects headcount growth "in excess of 1 to 2 percent in 2024." Some of those new hires may be in AI, for which Zuckerberg senses "big opportunity," including for advertisers.
It "should create more engagement and that by itself creates more opportunities for advertisers," Zuckerberg said on the call, hinting Meta will use AI to help advertisers with creative.
He also predicted "a very interesting convergence between some of the AI agents and Messaging and Business Messaging" via chatbots. Meta's Q1 advertising revenue was up 4 percent to $28.1 billion, outperforming the $26.76 billion estimate, per Yahoo Finance.