Apple is launching Apple News, a news reading app with content from leading media companies that gives publishers another venue for ads. The launch comes at the same time that Apple approved ad-blocking apps such as the just-released 99 cent Blockr, a concern among publishers looking for more savvy ways to take advantage of the burgeoning number of digital platforms. Among the companies committed to publishing on Apple News is GQ (sponsored by Burberry) and recipe site Epicurious (sponsored by Campbell's Soup and Reynolds).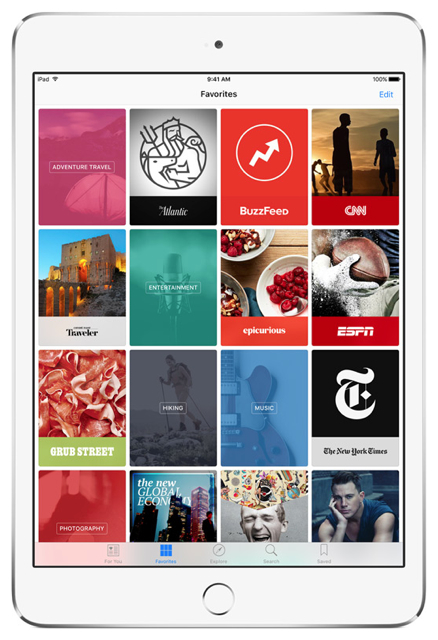 According to The Wall Street Journal, publishers keep 100 percent of the ad revenue when they book the ads. If Apple sells the ad space, it takes 30 percent, with the remainder going to publishers. Other media companies that plan to distribute content via Apple News are New York magazine, The Wall Street Journal and The Washington Post.
The Washington Post also established a relationship with Amazon Prime, announcing that users of Amazon's subscription service will be able to read articles for free for the first six months, followed by a 60 percent discount in subscription rates ($3.99 a month as opposed to $9.99).
WSJ notes that this new deal is "another step in the alliance of the two companies that started in 2013 when Amazon founder Jeff Bezos bought The Post for $250 million."
In the past, The Post was bundled with Amazon Kindle Fire tablets but, says WSJ, making it available on Amazon Prime will "potentially give the paper exposure to a much larger audience."
Other media outlets are seeking additional ways to distribute content. The New York Times and BuzzFeed plan to publish via Facebook's Instant Articles initiative and Snapchat has attracted several publishers to its Discover news program, says WSJ.
Topics:
Ad Blocking
,
Advertising
,
Amazon
,
Amazon Prime
,
App
,
Apple
,
Apple News
,
Blockr
,
Burberry
,
BuzzFeed
,
Campbell's Soup
,
Discover
,
Epicurious
,
Facebook Instant Articles
,
GQ
,
Jeff Bezos
,
Kindle Fire
,
New York Magazine
,
Reynolds
,
Snapchat
,
Social Media
,
Tablets
,
The New York Times
,
The Wall Street Journal
,
The Washington Post