Cyber Monday racked up $11.3 billion in online sales, according to Adobe Analytics, which reports a 5.8 percent increase over 2021's spending of $10.7 billion (which was down slightly from 2020's $10.8 billion). The 2022 result was a record for Cyber Monday and also for the year-to-date. Thanksgiving sales totaled $5.29 billion, while Black Friday hit $9.12 billion — both outperforming earlier forecasts. All in, "Cyber Week," including the days off and workdays during which people continued to shop, is estimated to have tallied $35.27 billion in online sales, a 4 percent increase year-over-year.
Salesforce released a U.S. total of $12.2 billion for Cyber Monday, which generated $46.2 globally, according to the firm. Adobe Analytics is projecting $210.1 billion in sales for November and December, a 2.8 percent increase over 2021. Mobile accounted for 44 percent of sales.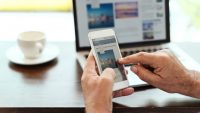 While inflation has been impacting U.S. consumer shopping patterns, "at the peak, people were spending $12.8 million per minute on Monday, and Adobe said that its digital price index, which tracks prices across 18 categories, said that prices have been nearly flat in recent months," TechCrunch writes.
Deep discounts played a significant role in boosting sales, with retailers giving shoppers a reason to open their wallets. The availability of goods after the supply-chain shortages of years past also contributed to the bounty.
"The promotional period from Thanksgiving through Monday — now known as the Cyber Five — was nothing like 2021, when supply-chain snarls prompted people to shop earlier and retailers to skimp on discounts," Bloomberg reports, adding that "this year stores were saddled with a glut of unsold merchandise, forcing them to offer sharply reduced prices to lure bargain-hunters looking to offset higher food and fuel costs. Hot sellers included LEGOs, drones and digital cameras."
"With oversupply and a softening consumer spending environment, retailers made the right call this season to drive demand through heavy discounting," Adobe Digital Insights lead analyst Vivek Pandya said in TechCrunch, explaining, "it spurred online spending to levels that were higher than expected, and reinforced e-commerce as a major channel to drive volume and capture consumer interest."
Forbes called Cyber Monday "the most prolific online shopping day ever" and "a sign of resilient spending even as inflation rages on and the U.S. economy flirts with a recession."
The vibrant Cyber Monday exemplifies a paradox in which "retail spending remains strong even as inflation sits at its highest level in four decades and the Federal Reserve attempts to slow the economy to rein in consumer prices," writes Forbes, noting "the latest government data revealed a 1.3 percent month-over-month increase in consumer spending."
The November through December holiday season is crucial to retailers, accounting for roughly a fifth of annual sales, says the National Retail Federation.
Topics:
Adobe Analytics
,
Black Friday
,
Consumer
,
Cyber Five
,
Cyber Monday
,
Cyber Week
,
Digital Camera
,
Discount
,
Drone
,
E-Commerce
,
Economy
,
Federal Reserve
,
Holiday Shopping
,
Inflation
,
LEGO
,
Mobile
,
NRF
,
Online Sales
,
Recession
,
Retail
,
Salesforce
,
Shopping
,
Supply Chain
,
Thanksgiving
,
Vivek Pandya