Just prior to CES 2021, LG Electronics stated it spent $80 million to take a 60 percent stake in Alphonso, an advertising technology, data and measurement company, to advance its aim of building a streaming-TV advertising business. LG is buying out Manifest Investment Partners and other existing Alphonso investors. Founders, current and former employees and "various advisers" will hold onto the remaining shares. The company, which had a pre-money valuation of about $125 million, has raised $6.3 million thus far.
The Wall Street Journal reports that, according to one source, "the deal gives LG the option to acquire the remainder of Alphonso within three to five years." The precipitous rise of streaming during the COVID-19 pandemic has "created opportunities for those selling ad time on apps and distribution platforms … [and] TV manufacturing giants such as LG, Samsung Electronics and Vizio are seeking to supplement their sale of TV sets with advertising as a new, recurring source of revenue."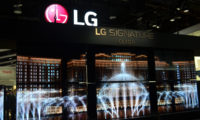 LG webOS ad business team director Edward Lee noted that the company has offered consumers LG Channels, its "free and ad-supported streaming service," since 2016. "[We] will continue to put effort in enhancing consumer services," he said, adding that Alphonso's "software, data analytics and media activation capabilities" will be leveraged "across LG's home entertainment products, mainly smart TVs."
Sharp and Hisense already "use Alphonso's technology to capture viewership data on their sets … [and] some 15 million U.S. households have opted in to such collection, which helps inform the ad retargeting for which advertisers use Alphonso." At LG, "Alphonso revenue will be booked under an existing business unit called LG Ads, with the combined entities expecting to generate $100 million in revenue in 2021."
Alphonso chief executive Ashish Chordia stated that his company will help LG "build a complete streaming-TV ad sales and measurement offering more quickly than it could on its own." Chordia, who said he wants to eventually take the company public, added that "partly because Alphonso will continue to operate as an independent subsidiary with provisions to keep clients' proprietary information private," LG's investment will not affect his company's work for other TV manufacturers.
LG and other TV manufacturers face strong competition from established streaming ad players such as Roku which, in Q3 2020 "generated $319 million from its platform business, which includes revenue generated from advertising as well as Roku's cut of subscription and transaction fees from apps and content on its platform." Roku's market value has "expanded 30 times to more than $40 billion since going public in 2017."
For the latest LG news from CES 2021, visit the company's CES site — or use the CES search function for everything LG during this year's virtual conference.
Topics:
Ad-Supported
,
Advertising
,
Alphonso
,
Ashish Chordia
,
CES
,
CES 2021
,
Coronavirus
,
COVID-19
,
CTA
,
Data Analytics
,
Edward Lee
,
Hisense
,
LG Ads
,
LG Channels
,
LG Electronics
,
Manifest Investment Partners
,
Manufacturers
,
Roku
,
Samsung Electronics
,
Sharp
,
Smart TV
,
Streaming
,
Subscription
,
Television
,
Vizio