Four years after LG Display demonstrated an 18-inch, rollable OLED screen with the promise of larger future versions, the company has delivered with a 65-inch 4K version. Most reviewers are reporting eye-popping colors and perfect blacks; The Verge awarded the display Best Prototype at CES and described it as "absolutely stunning," noting that it "goes from its native 16:9 to a wider 21:9 cinema mode at the press of a button." In fact, the TV has three modes: the first mode unrolls the screen up from the base about a third of the way to offer content such as news, photos, weather and sports; the second rises to a 21:9 aspect ratio ideal for movie viewing; and the third mode presents the full 16:9 screen for watching television content.
Of course, the screen "can also be hidden away entirely for a discreet home theater look," explains The Verge. To see the rollable functionality in action, check out the videos from Digital Trends and Tom's Guide.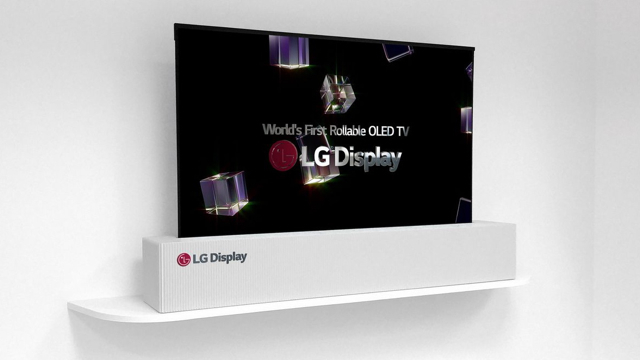 "While the speed of the unrolling wasn't that quick, it actually makes the process feel more dramatic, so I didn't mind the less-than-blistering pace," suggests the Tom's Guide reviewer. "The operation was also remarkably quiet."
There was also a portable mock-up with handles on display that could easily be carried from room to room. While the rollable OLED is not yet a product, LG Display is letting manufacturers know that the concept is possible.
"The roll-up TV won't be out this year, but I wouldn't be surprised to see it go on sale in 2019 or 2020," writes David Katzmaier for CNET. "It's just so practical and cool that if I was a TV manufacturer, I'd want to bring it to market as quickly as possible."
Topics:
4K
,
Aspect Ratio
,
CES 2018
,
CTA
,
David Katzmaier
,
Display
,
Flexible Screens
,
Home Theater
,
Las Vegas
,
LG Display
,
LG Electronics
,
Manufacturers
,
Movie
,
News
,
OLED
,
Prototype
,
Rollable
,
Screen
,
Sound Bar
,
Sports
,
Television
,
Tuner
,
TV Set
,
TV Show
,
UHD TV
,
Ultra HD
,
Video
,
Weather