HTC's new Vive Pro VR headset made a major splash this week in Las Vegas and received notable Best of CES awards, including the Best Gaming Product from Engadget and the Best VR/AR award from The Verge. HTC added built-in headphones to this version and increased the resolution of the dual-OLED displays 78 percent to 2,880 x 1,600 (1,400 x 1,600 per eye). The headphones offer spatial audio support, but no noise-canceling functionality. HTC added dual microphones and dual front-facing cameras, which should attract developers.
The high-res OLED screens of the Vive Pro offer a pixel density of 615 ppi, an upgrade from the original Vive's 448 ppi.
To address user complaints, a new head strap with sizing dial for a more comfortable fit has been introduced, making the headset more similar to the Oculus Rift, and the company plans to launch a wireless adapter for the Vive and Vive Pro this summer.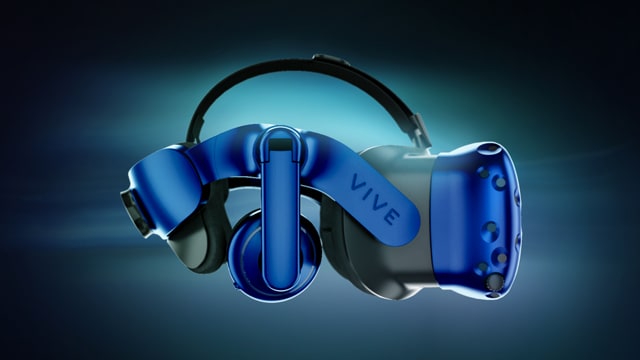 According to The Verge reviewer, the resolution enhancement is clearly noticeable: "I was able to read text far more easily, and graphics looked a lot crisper. The only thing HTC still needs to improve is the field-of-view in my opinion. It still looks like you're looking through a pair of goggles at times, although the resolution bump makes it feel like you're not looking at pixels on a screen so much anymore."
"HTC has a clear market in mind for the Pro: hardcore VR enthusiasts and businesses that want the most powerful experiences possible," notes Engadget. While pricing has yet to be announced, the Vive Pro "will be on sale as a standalone headset, no tracking equipment included, this quarter. A package complete with base station 2.0 and controllers will be out later this year."
In its CES Awards post, The Verge notes that gamers "still need a powerful gaming PC to use SteamVR software. But the Vive Pro is an interesting challenge to the Rift, which Oculus has been aggressively discounting for months to spur VR adoption. We'll see how the VR platform wars heat up after this."
Topics:
3D Audio
,
Augmented Reality
,
Best of CES
,
CES 2018
,
CTA
,
Developer
,
Display
,
Engadget
,
FOV
,
Gamer
,
Gaming
,
Graphics
,
Head Strap
,
HTC
,
HTC Vive
,
Microphone
,
Oculus Rift
,
OLED
,
PC
,
Pixel Density
,
Resolution
,
Spatial Audio
,
SteamVR
,
The Verge
,
Virtual Reality
,
Vive Pro
,
VR Game
,
Wireless Adapter