Samsung wants to be everywhere. The company's CES 2018 media briefing led by Tim Baxter, president and CEO of Samsung North America, demonstrated Samsung's strategic focus on connecting almost every aspect of its customer's life. When they lifted the black curtains that protected Samsung's entire Central Hall exhibit before the floor opened, visitors could see the evolution of the tech giant's product line from the living rooms to living spaces. An R&D investment of $14 billion has accelerated an IoT strategy and the promise that all Samsung products will also be "Smart" by 2020.
"The real value to consumers is when devices enable consumers to do more. Less complexity. More simplicity," said Baxter.
The 2020 timeframe represents a new marker for the company, which is two years ahead of schedule on a promise to make all of its products IoT-ready by 2020. Ninety percent of its products already are.
Samsung is one of the leading companies in the Open Connectivity Foundation (OCF), a 397 member-company organization dedicated to providing specifications that leverage existing industry standards and technologies, provides connection mechanisms between devices and between devices and the cloud, and manages the flow of information among devices, regardless of their form factors, operating systems, service providers or transports.
A center of Samsung's strategy is SmartThings, an ecosystem of interoperable products and services that are now further connected with the SmartThings Cloud that was announced at CES.
SmartThings extends beyond the home and into the car now that Harman, the automotive component company that Samsung acquired in March 2017, will join the SmartThings ecosystem with products installed in connected cars.
Together, Samsung and Harman are looking ahead to autonomous vehicles and the rollout the advancement of 5G, and envision all devices working together with an Intelligent Cockpit.
Samsung, now the #1 television brand, announced a new universal guide search function personalized to a viewer's taste. This is achieved by installing Bixby, the company's AI-enabled assistant into all new televisions.
This plus SmartThings technology makes the TV the dashboard for the Smart Home. The company demonstrated a simple set up process that can be accomplished through the customer's mobile device, whether Android or iOS.
Samsung's MicroLED non-emitting television screen won a CES Best of Innovation Award, is modular in design and can be configured in virtually any size imagined.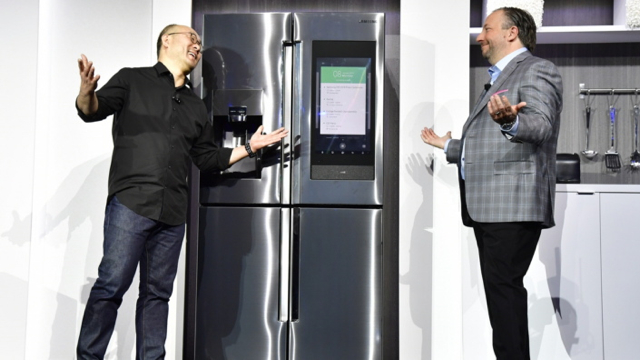 The Family Hub — the screen-equipped-refrigerator door that was a curiosity when first shown in 2016 — now includes 14 products that can be integral to a connected lifestyle.
The media briefing also highlighted the latest Gear 3 and 4 wearable products, new tablets, Chromebooks, and PCs, including a 2.2 pound Samsung Notebook 9 Pen. Samsung also presented its re-imagination of the modern meeting in The Flip, a new smartboard that facilitates high levels of collaboration and sharing functions.
Topics:
5G
,
Android
,
Artificial Intelligence
,
Automotive
,
Autonomous Vehicles
,
Bixby
,
CES 2018
,
Chromebook
,
Cloud
,
Connected Devices
,
Family Hub
,
Gear 3
,
Gear 4
,
Harman
,
iOS
,
IoT
,
MicroLED
,
Notebook 9 Pen
,
Open Connectivity Foundation
,
R&D
,
Refrigerator
,
Samsung
,
Smart Home
,
Smartboard
,
SmartThings
,
Tablets
,
Television
,
The Flip
,
Tim Baxter
,
Wearables