There were twice as many people as chairs throughout the nearly four-hour "Future of Blockchain" CES conference program this week. The enthusiasm of the program's attendees mirrored that of exhibitors as well as the general anticipation surrounding blockchain and its applications at the show. The new offerings discussed at CES 2018 ranged from Kodak's resurgence as a rights management platform to fast food chains asking users to mine tokens by eating chicken wings. A number of entertainment-specific blockchain technologies showed promise beyond an alternative means of purchasing content.
While the cloud provides a centralized place for compute, storage and network resources, blockchain has the potential to create a distributed computing model where individuals can participate and be compensated for their personal compute power.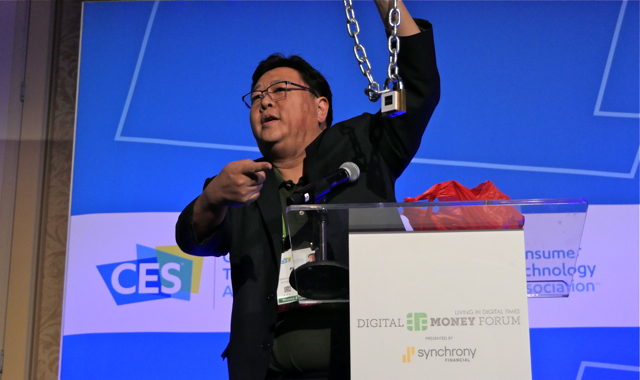 One company looking to leverage this model to disrupt the video industry is VideoCoin (CEO Halsey Minor pictured below). VideoCoin is deploying a decentralized video encoding, storage and content distribution network to enable video streaming. Built on a distributed storage system, it incentivizes users to make their compute resources available for encoding chunks of video that can be stitched together to minimize lag and maximize video quality.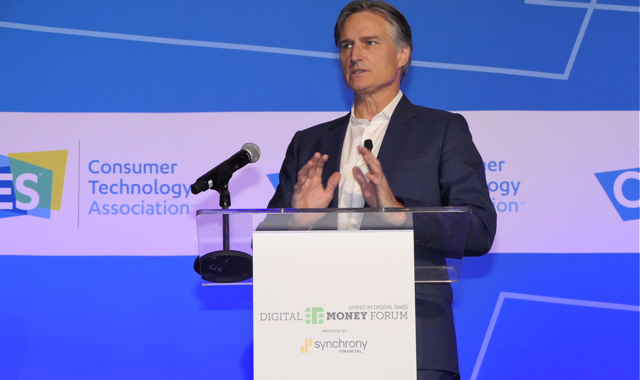 It's not clear how content would be secured while it's being processed, stored and delivered, but the potential is massive — especially given the rising file sizes (there were plenty of 8K displays at CES) and the rising cost of compute resources (which will likely be exasperated by the performance hits incurred by Spectre and Meltdown patches).
Blockchain technologies could also prove a potent solution to drastically reduce piracy by certifying ownership, identity, and licensing agreements. An Austrialian company, Veredictum, is building a platform that proposes to do just that.
Veredictum claims the ambitious goal of reducing "film and video piracy by 80 percent within 10 years." Their Ventana tokens are ERC-20 compatible tokens distributed on the Ethereum blockchain via a smart contract. They are currently in the token sale process.
While fast food chains and other consumer focused companies work on advanced loyalty programs supported by blockchain, the most significant announcement at CES appears to be Kodak's foray into the space.
Through various licensing partnerships, Kodak launched an image rights management platform, KODAKOne; a photo-centric cryptocurrency, KODAKCoin; and a mining solution, KashMiner.
KODAKOne and KODAKCoin are especially intriguing, as they could represent some of the creative industry's first steps toward a new means of tracking usage, managing payment, and enforcing licensing agreements in the absence of a centralized authority.
Topics:
8K
,
Australia
,
Blockchain
,
CES 2018
,
Cloud
,
Computing
,
Cryptocurrency
,
Display
,
Distribution
,
Encoding
,
ERC-20
,
Ethereum
,
Fast Food
,
Hacker
,
Halsey Minor
,
KashMiner
,
Kodak
,
KODAKCoin
,
KODAKOne
,
Las Vegas
,
Licensing
,
Loyalty Program
,
Meltdown
,
Movie
,
Piracy
,
Rights Management
,
Security
,
Spectre
,
Storage
,
Streaming
,
Token
,
Ventana
,
Veredictum
,
Video
,
VideoCoin