While MicroLED, 8K QLED and some impressively large quality displays have been generating the most TV buzz this week in Las Vegas, LG has been showcasing a concept that's taken different forms at CES in the past, but not with this level of sophistication. Rather than introducing a foldable or bendable screen that retracts, LG debuted a 65-inch OLED TV with rollable screen at this year's confab. The LG Signature OLED TV R "rolls" into a base to the point that the flexible screen is no longer visible. The 3-millimeter OLED panel then rises from its base for easy viewing. Users can also play music through the base since it's a 100W Dolby Atmos soundbar.
The company has shown versions of its rollable tech in the past, but this is the first year it has unveiled an actual product. The Signature OLED TV R (the "R" stands for rollable screen) offers three different display mode options, including one that raises the screen a few inches for management of tasks such as clock, news or weather — or track information if you're streaming music; and another that features all of the 65-inch screen for 16:9 viewing of TV shows and movies.
Users can communicate with the TV "via Amazon Alexa, and it has support for Apple AirPlay 2 and HomeKit," reports VentureBeat. "With support for AirPlay 2, users can play videos from iTunes and other video apps, music, photos directly from their Apple devices. With Apple HomeKit support, customers will be able to control their LG TV using the Home app or by asking Siri." It also has Google Assistant built in, and works with LG's ThinQ AI.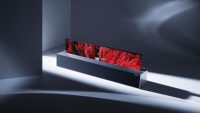 The TV offers "4K, HDR, full connectivity, and it looks gorgeous," suggests Digital Trends. It features "LG's new A9 Generation 2 processor built in, which gives it AI for sound and AI for video." AI for sound "expands the sound signature" and "opens up the sound plane" to provide "much more spacious sound," while AI for video actually adjusts the HDR curve based on the room's ambient lighting.
"LG didn't say how much it costs," notes VB. "It's clearly a luxury item for now, but it is a nice way to hide technology in your home. When you're not using it, it's just a nice-looking long box, sort of like a work of art."
Topics:
4K
,
8K
,
A9 Generation 2
,
AirPlay 2
,
Alexa
,
Amazon
,
Apple
,
Apps
,
CES 2019
,
Displays
,
Dolby Atmos
,
Google Assistant
,
HDR
,
HomeKit
,
iTunes
,
LG
,
LG Signature OLED TV R
,
LG ThinQ
,
MicroLED
,
Movies
,
Music
,
OLED
,
QLED
,
Rollable
,
Screens
,
Siri
,
Soundbar
,
Streaming
,
Television
,
TV Shows
,
Video
,
Virtual Assistants