Last Gadget Standing, presented by Living in Digital Times — a raucous event at the tail end of CES — has been a tradition for 19 years, when journalist/editor/author Robin Raskin founded it. The event features a showgirl in skimpy red spangles and feathered headdress, loads of swag thrown out to the audience, and music with a powerful beat. Having featured New York Times writer David Pogue for several years, this year's event was hosted by the first woman ever, consumer electronics journalist Jennifer Jolly, who wore a top hat with a video screen embedded in the front.
Before the parade of gadgets the event presented the Young Innovator Awards, to an impressive group of young people: Lyron Co Ting Keh who created HICCUP, a novel cancer diagnosis tool; Tanisha Bassan, a 17-year old working with IBM on the Quantum Support Vector Machine Kernel Algorithm; Kumaran Akilan and Archishman Sravankumar who created Lumen, an algorithm that uses digital imaging data to diagnose dementia in its early stages; Jerry Qu, who created an engine to search for research papers; and Vishanth Thangavelautham and Talha Atta who developed a product that uses blockchain to distribute Wi-Fi to people in need.
To cut to the chase, the Last Gadget Standing was the Shure MV88 + Video Kit, which turns your smartphone into a mobile recording studio. Compatible with all phones, it features real-time monitoring, connectivity, mounting options, audio quality, charging and is live-stream ready. The People's Choice Award went to the HP Spectre Folio (below), a leather-bound two-way laptop/tablet.
Runners up included Owl Car Cam (below), a dashboard mounted interior/exterior camera that sends images to your phone, and calls 911 in the case of a crash. Nuheara, which launched its first generation product at CES two years ago, offered its IQbuds Boost, for people with mild to moderate hearing loss. Consumers can do their own hearing assessment and calibrate it to their own hearing profile (priced at $499).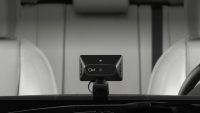 The first-ever religious smart wearables is Rosary Beads, a version of the first product, Leap Beads, the Buddhist version (priced at $149). The YubiKey Family of products from Yubico is a security key and open authentication standard that works across services without any shared data across those services.
ORII, originally aimed at the visually impaired, is a ring that turns your hand into an extension of your smartphone. It turns sound into vibrations that go directly into the user's head. Priced at $199, it is mainly sold in Asia but is also being used as a smart walkie-talkie at the Peninsula and Four Seasons hotels. From Humaneyes Technologies, the Vuze is a 360-camera that also doubles as a VR camera.
Last, Kano showed off its Harry Potter Coding Kit, which was a big hit at the holidays. The game is about demystifying technology and teaching kids how to code.
Topics:
Archishman Sravankumar
,
CES 2019
,
David Pogue
,
HICCUP
,
HP Spectre Folio
,
Humaneyes Technologies
,
IBM
,
Jennifer Jolly
,
Jerry Qu
,
Kano
,
Kumaran Akilan
,
Last Gadget Standing
,
Living in Digital Times
,
Lyron Co Ting Keh
,
Nuheara
,
ORII
,
Robin Raskin
,
Rosary Beads
,
Shure MV88
,
Talha Atta
,
Tanisha Bassan
,
Vishanth Thangavelautham
,
Yubico