LG Display, a major panel supplier for Apple, will reportedly supply TV displays to rival Samsung as early as this year in a deal that is expected to replace the Sharp-Foxconn venture as a lead supplier to Samsung. A deal between LG Display and Samsung (the world's largest television manufacturer) would mark a first for the South Korean rivals. Sharp and Foxconn are cutting back production of LCDs, which would also likely impact panel supply and display prices throughout the industry. Meanwhile, Sharp and Foxconn are considering expansion into the U.S.
"Sakai Display Products Corp., controlled by Sharp and Foxconn, has cut back supply of LCD screens to other TV makers, a move that may foster a panel supply shortage and further accelerate a rally in display prices," reports Bloomberg. It could also benefit LG Display and others.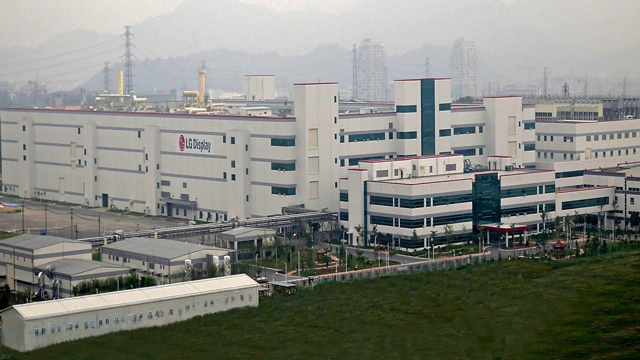 "The abrupt supply halt by Sharp will have a domino effect on other TV makers from Samsung to Sony," said Chung Won-suk, analyst at HI Investment & Securities Co. If LG is not able to pick up Sharp's slack, "That will cause the supply shortage to persist throughout the year and help sustain the price rally at least until the first quarter."
Samsung Display Co. has reduced its LCD output to focus on next-gen OLED tech for mobile phones and tablets. Insiders say that Samsung has been in discussions with Apple to supply OLED for iPhones.
"LG Display — a fierce rival to Samsung — stands to become the biggest beneficiary as TV customers demand bigger-sized LCD screens," suggests Bloomberg.
Meanwhile, Foxconn chairman and chief exec Terry Gou said this past weekend that the company is considering an investment of more than $7 billion to build a display-manufacturing plant in the U.S.
The New York Times reports that such a proposal "depends on many factors, such as investment conditions, that would have to be negotiated at the state and federal levels in the United States, Mr. Gou said."
The company has "operations in Pennsylvania, which is a state Foxconn would make a priority, depending on land, water, power, infrastructure and other investment conditions."
Topics:
Apple
,
Chung Won-suk
,
Display
,
Foxconn Technology Group
,
HI Investment & Securities
,
Hon Hai Precision Industry
,
LCD
,
LG
,
LG Display
,
Manufacturer
,
Mobile
,
OLED
,
Osaka
,
Panel
,
Pennsylvania
,
Samsung
,
Samsung Display
,
Samsung Electronics
,
Sharp
,
Smartphone
,
Sony
,
South Korea
,
Tablet
,
Television
,
Terry Gou
,
TV
,
United States