Los Angeles is poised to unleash an ambitious city-led broadband project with plans to deliver fiber to all of its businesses and 3.5 million residents. The new fiber network, expected to cost $3 billion to $5 billion, would offer free Internet access of 2Mbps to 5Mbps, likely subsidized by advertising. Paid tiers would offer access up to a gigabit, and the network would power Wi-Fi hotspots in public areas. Phone service and television is not a requirement for bidders, but package offerings would not be a surprise.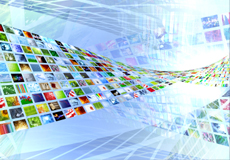 The city is expected to issue an RFP (request for proposals) next month "that would require fiber to be run to every residence, every business, and every government entity within the city limits of Los Angeles," said Los Angeles Information Technology Agency GM Steve Reneker.
"Residential broadband in LA today typically ranges from 5Mbps to 50Mbps from the likes of AT&T, Time Warner, Verizon, Cox, and Charter," reports Ars Technica. "Gigabit speeds are available to businesses, but at a higher price than other communities, Reneker said. By expanding gigabit access and hopefully lowering the price, LA hopes to attract new entrepreneurs and keep existing businesses from leaving the city."
Cost of the buildout is expected to fall on the vendor. "The city is going into it and writing the agreement, basically saying, 'we have no additional funding for this effort.' We're requiring the vendors that respond to pay for the city resources needed to expedite any permitting and inspection associated with laying their fiber," said Reneker. "If they're not willing to do that, our City Council may consider a general fund transfer to reimburse those departments, but we're going in with the assumption that the vendor is going to absorb those up-front costs to make sure they can do their buildout in a timely fashion."
"The RFP would favor companies that can offer not only fiber Internet but also cellular service and data center hosting," notes the article, indicating that AT&T and Verizon would be viable candidates. Reneker said that Time Warner, Cox, and Charter could also be among those to offer bids. However, Google Fiber in its current form will not be considered by the city.
"They would have to change their business model," Reneker said in regards to Google. "They only run residential. We're requiring a component for the business. That would be a new market for them."
Topics:
Agency
,
Ars Technica
,
AT&T
,
Bid
,
Bidder
,
Bidding
,
Broadband
,
Build
,
Buildout
,
Business
,
California
,
Cellular
,
Charter
,
City
,
Cost
,
Council
,
Cox
,
Data Center
,
Fiber
,
Free
,
Google
,
Google Fiber
,
Host
,
Hot Spot
,
Hotspot
,
Inspection
,
IT
,
LA
,
Los Angeles
,
Mobile
,
Network
,
Permit
,
Proposal
,
Reneker
,
Residential
,
RFP
,
Time Warner
,
Vendor
,
Verizon
,
Wi-Fi
,
Wi-Fi
,
Wireless