Eastman Kodak went retro this week at CES with a film camera based on the Super 8 design from 50 years ago. Kodak ceased production of Super 8 cameras in 1982, once video had become more popular for recording home movies. Today, most consumers use their mobile phones or small action cams for shooting personal video. Citing the preference of some Hollywood directors to produce their movies in 35mm or 70mm, Kodak chief exec Jeff Clarke believes there are professional as well as amateur filmmakers who would appreciate the opportunity to work with film rather than video.
The effort is aimed in part at film schools where many of today's students no longer have the opportunity to work in the same medium as filmmaking pioneers. Clarke also draws parallels to the growing movement by audiophiles who favor analog versions of their music on vinyl records.
"Kodak plans to play on some of the conveniences of digital technology," reports The Wall Street Journal. "Just as movies shot on film are usually converted to digital files for editing and projection, buyers of the new camera that turn to Kodak for processing will get a digital copy of their imagery as well as eight-millimeter film to use in projectors."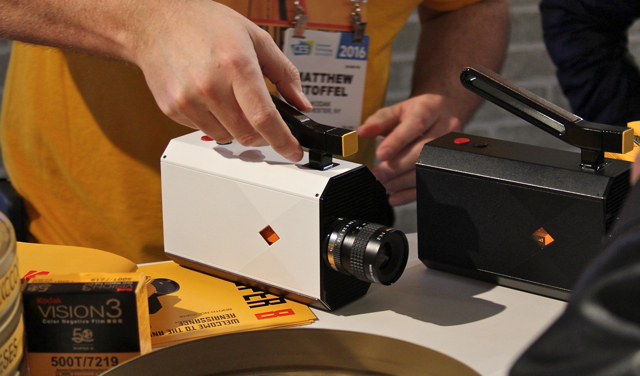 "Despite the Super 8 camera featuring a 3.5-inch rotating viewfinder, rechargeable battery, and microSD support it will also accept traditional film," explains Fortune. "According to the camera's specifications, it will accept Kodak Super 8 cartridges with 50 feet of film."
Mashable named the prototype a "Best of CES" awardee in the Cameras & VR category, suggesting that "there's no doubt filmmakers of all generations will try and get their hands on one."
Clarke joined Kodak two years ago to turn the company around after it had filed for bankruptcy in 2012. The company is now beginning to meet its financial targets and has received support from Hollywood studios that continue to purchase film stock.
Kodak plans to initially launch a limited edition Super 8 camera this fall that will cost between $400 and $750. Next year, the company will debut a more affordable model aimed at a wider audience.
Topics:
35mm
,
Camera
,
CES 2016
,
CTA
,
Digital Video
,
Eastman Kodak
,
Editing
,
Film
,
Film Processing
,
Film Schools
,
Filmmakers
,
Hollywood
,
Home Movies
,
Jeff Clarke
,
Kodak
,
microSD
,
Mobile
,
Movie
,
Production
,
Projection
,
Projector
,
Smartphone
,
Students
,
Studio
,
Super 8
,
Video
,
Vinyl Records
,
Yves Behar