Bluesky has made it into the Apple App Store, where its reportedly generated more than 2,000 downloads in the past two weeks in an invitation-only beta mode, prompting speculation that a public launch is coming soon. Backed by Twitter co-founder and former CEO Jack Dorsey, Bluesky's focus is a transfer protocol called AT (Authenticated Transfer) designed to facilitate an open, decentralized social network, not unlike the ActivityPub protocol that underpins Mastodon. The mobile app has been developed to showcase the protocol's features. Incubated at Twitter starting in 2019, Bluesky is now a public benefit company.
Though Bluesky was founded prior to Elon Musk's purchase of Twitter, he and Dorsey have reportedly been discussing collaborating on an open source platform. But in the wake of Musk's Twitter takeover, Mastodon has benefited from apps by former Twitter third-party developers who abandoned the platform this past year.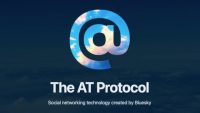 Although it was initially criticized for being clunky and hard to use, Mastodon now has polished clients including Ivory and Mammoth.
Flipboard has embraced the ActivityPub standard, which Medium, Tumblr and Flickr are said to be exploring.
"Where that leaves Bluesky's future is unclear," according to TechCrunch, which test drove Dorsey's latest venture, finding it a "functional, if still rather bare-bones, Twitter-like experience. Users create a handle which is then represented as @username.bsky.social as well as the display name that appears more prominently in bold text, as on Twitter."
Bluesky, which launched in beta on the web in November, facilitates posts of 256 characters and can accept photo attachments. Users can search for and follow others, viewing their updates in a Home timeline, as with other social platforms. User profiles sport the expected features: a profile photo, background, bio and data showcasing the number of followers and posts for each user.
"Profile feeds are also divided into two sections, like Twitter: posts and posts & replies. Bluesky users can share, mute and block accounts, but advanced tools, like adding them to lists, are not yet available," TechCrunch says, noting the app lacks DMs.
"There's something ironic about leaving Twitter to use an app that looks and feels so much like Twitter, right down to posts from Jack Dorsey," writes TechCrunch, which provides a detailed rundown of features. The new platform will be facing competition, not only from Twitter, but from upcoming clones, like Spill, T2 and Post. Some have been critical of lauching a decentralized protocol destined to go head-to-head with ActivityPub.
Available on the web and iOS, Bluesky has yet to debut on Android.
Related:
Twitter's Decentralized Alternative Bluesky Arrives as an Invite-Only iOS App, The Verge, 2/28/23
Decentralized Twitter Spin-Off Bluesky Now on App Store in Beta, Decrypt, 3/1/23