Despite cost-cutting, Meta Platforms is continuing to spend on R&D. Coming in 2025: smart glasses paired with a neural interface watch to control them, according to The Verge, which got to view a presentation the company delivered to thousands of its Reality Labs staffers this week. Among the disclosures: for 2027, full-fledged AR glasses, a format Meta CEO Mark Zuckerberg says will eventually be as ubiquitous as mobile phones. Coming later this year is a thinner, more powerful Quest 3 VR headset priced only slightly higher than the $400 Quest 2.
Like the Quest Pro, the Quest 3 "will prominently feature mixed reality experiences that don't fully immerse the wearer, thanks to front-facing cameras that pass through video of the real world," reports The Verge, quoting Meta VP Mark Rabkin sharing with employees that the company "has sold nearly 20 million Quest headsets to date."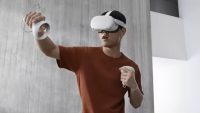 Meta is banking on mixed reality being a strong selling point, with a "'smart guardian' to help wearers navigate the real world" while they are wearing the new VR devices. "The main north star for the team was from the moment you put on this headset, the mixed reality has to make it feel better, easier, more natural," Rabkin told the convened staff.
"You can walk effortlessly through your house knowing you can see perfectly well. You can put anchors and things on your desktop. You can take your coffee. You can stay in there much longer," he said, per The Verge.
There are reportedly 41 new apps and games in the pipeline for the Quest 3, including "mixed reality experiences to take advantage of the updated hardware." Also teed-up is "a more 'accessible' headset, codenamed Ventura," expected to ship in 2024.
"The goal for this headset is very simple: pack the biggest punch we can at the most attractive price point in the VR consumer market," The Verge quotes Rabkin saying, which prompted TechRadar to herald Meta's "cheapest headset yet," even as it speculates Meta may be collaborating with Apple, whose latest macOS is also called Ventura.
"Apple is rumored to be entering the extended reality (XR which encompasses VR, AR, and MR) space this year with an Apple VR headset, and is believed to be following it up with a much cheaper headset in 2024 — the same year Meta is now expected to launch a super budget-friendly option," notes TechRadar.
Meta VP of augmented reality Alex Himel previewed new camera-equipped smart glasses coming to market this fall, the second iteration to result from the company's deal with Ray-Ban parent Luxottica. The third generation, due in 2025, "will ship with a display that he called a 'viewfinder' for viewing incoming text messages, scanning QR codes, and translating text from another language in real time," The Verge says.