Last week, chipmaker Intel introduced its own mobile app called "Pocket Avatars." Unlike most of Intel's functional software, Pocket Avatars is purely recreational. The app uses a smartphone's camera and microphone to record the user's voice and facial movements. Then the app translates those signals into a talking, animated avatar message that users can send to their friends. The free app is available for iPhones and Android smartphones.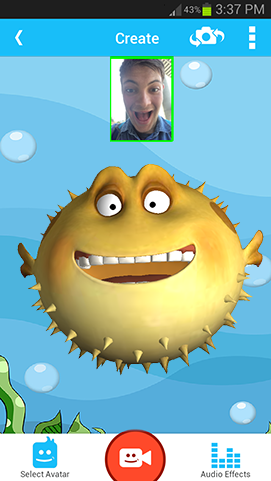 Currently, users can pick an avatar from 40 different options, such as a puffer fish, the Statue of Liberty, or even Barack Obama. Avatars range in cost from free to 99 cents. Third-party developers are developing more avatars.
While Intel hasn't specifically discussed plans to make money from the venture, the company could share revenue with the avatar developers.
The new app is a step in a different direction for Intel. The Wall Street Journal reports that most of Intel's previous programming projects were "designed to drive demand for Intel chips." However, the new app is designed for iPhones and Android devices, which run on ARM Holdings architecture instead of Intel chips.
"Right now we have to deal with the reality that there are alternative (chip) architectures out there and we'd be crazy not to support them," Mike Bell, vice president and general manager of the new devices group at Intel, said. "It's about the software, not about the hardware."
The devices group has also developed new technology for another market that Intel has recently shown an interest in: wearables.
Visit the Pocket Avatars site for additional information.
Topics:
Android
,
Animated
,
App
,
Apple
,
ARM
,
ARM Holdings
,
Avatar
,
Camera
,
Chat
,
Chip
,
Developers
,
free app
,
Intel
,
iOS
,
iPhone
,
Message
,
Messaging
,
Microphone
,
Mike Bell
,
Mobile
,
Pocket Avatars
,
Programming
,
Smartphone
,
Social
,
Software
,
Voice
,
Wearables