As part of its push to become the dominant OS for connected devices in and around the home, Google's Nest Labs will purchase Dropcam for $555 million. Dropcam's Web-connected video-monitoring service streams live to mobile apps and sends alerts based on activity in the home. Google acquired Nest, founded by Apple designers Matt Rogers and Tony Fadell, earlier this year for $3.2 billion. The acquisition of Dropcam is expected to generate privacy concerns.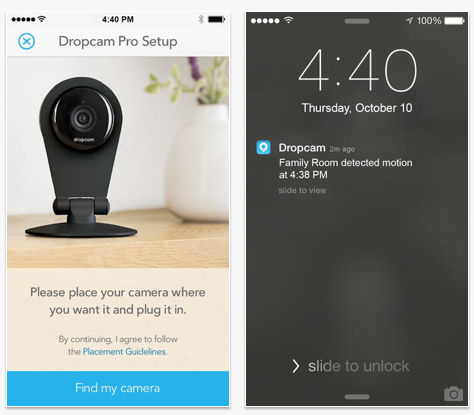 "Nest, which makes Internet-connected thermostats and smoke detectors, is paying cash for the startup and will work with Dropcam to develop products and services that connect users to their homes, Matt Rogers, co-founder of Nest, said in an interview. The deal requires regulatory approval," explains The Wall Street Journal.
Rogers confirmed that data from Dropcam will not be shared with Google without the customer's permission, as it will be under Nest's privacy policy. He also mentioned that Nest and Dropcam have no plans to sell ads in their future.
"Dropcam already offers a feature that lets users invite friends to view their video streams or make it public and show the world," notes WSJ.
The idea is to combine home automation with social networking. Users can share whether or not they are home based on light detection, security systems or device usage detectors. Dropcam also plans to introduce movement sensors that would track when doors open or close, moving beyond basic video surveillance.
"There will be an app for your home alarm, your thermostat, your garage door, your lights, even your music," explained venture capitalist David Cowan.
Topics:
Acquisition
,
Ads
,
Alerts
,
App
,
Apple
,
Automation
,
Communicate
,
Connected
,
Doors
,
Dropcam
,
Google
,
Home Alarm
,
Labs
,
light detection
,
Lights
,
matt rogers
,
Mobile Apps
,
Music
,
Nest
,
Operating System
,
Privacy
,
Regulatory
,
Security
,
Sensors
,
Share
,
Smarthome
,
smoke detectors
,
Social Networking
,
Surveillance
,
Thermostats
,
Tony Fadell
,
Video