Chipmaker Intel has acquired the gesture recognition startup Omek Interactive for close to $50 million. The Israeli startup develops software and related technology for creating gesture recognition interfaces based on information provided by 3D cameras. Omek's gesture recognition and body tracking software is being used in devices such as TVs, set-top boxes, game consoles, tablets, PCs, smartphones, interactive signs, and medical and fitness devices.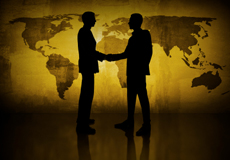 "The acquisition of Omek Interactive will help increase Intel's capabilities in the delivery of more immersive perceptual computing experiences," explains a statement from Intel.
While specifics of the deal have not been released, some reports speculate the value is between $30 million and $50 million. One Israeli news source, Haaretz, puts the deal at "close to $50 million."
Specific motivation behind the deal has also not been revealed. Some reports indicate that Omek was looking to raise more money when Intel offered an alternative. Others suggest that Intel wants Omek for technology that can be embedded into chips.
"Another is that Intel wants the technology as part of its bigger moves into 3D visualization and 'perceptual computing,' Intel's catch-all term for gesture, touch, voice, and other AI-style sensory technologies," reports TechCrunch. "This is also the subject of a $100 million investment fund Intel launched in April."
In related news, rumors have been circulating that another Israeli company is being pursued by Apple. "PrimeSense, the company behind the original Microsoft Kinect's technology, is in acquisition talks with Apple, somewhere near a valuation in the $280-300M range," notes 9to5Mac. "The purchase would bolster Apple's living room TV interface offerings and allow Apple to add controls with body movements and hand gestures to its products."
One source at PrimeSense has stated that the reports are not true, adding that the company is worth much more than $280 million.
Topics:
3D
,
Acquire
,
Acquisition
,
AI
,
Apple
,
Apple TV
,
Body Tracking
,
Business
,
Camera
,
Chip
,
Console
,
Game
,
Gesture
,
Gesture Recognition
,
Immersive
,
Intel
,
Interactive
,
Interface
,
Israel
,
Kinect
,
Microsoft
,
Mobile
,
Omek
,
Omek Interactive
,
perceptual computing
,
PrimeSense
,
Purchase
,
Smartphone
,
Software
,
STB
,
Tablet
,
Voice