Instagram has removed the IGTV button from the main screen of its app because so few people use it, instead "finding IGTV content through previews in Feed, the IGTV channel in Explore, creators' profiles, and the standalone app," according to the company. Instagram, which launched IGTV in 2018 as a way to post long-form video, has not stated whether it will replace the icon with another. IGTV allows video uploads of up to one hour for celebrities and influencers and 10 minutes for everyone else.
Digital Trends reports that, according to Apptopia, in its first year, IGTV attracted only 7.8 million downloads. In comparison, Instagram has more than one billion monthly users. It notes that IGTV was "widely described as a bid by Instagram to take on YouTube," and says the removal of its on-screen icon "has put the spotlight on the popularity of IGTV itself, and calls into question whether Instagram is struggling to attract new users to the service."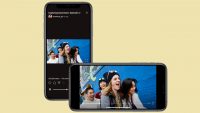 Instagram has also "backed away from offering stats about IGTV." From the beginning, some users were "frustrated at lack of support for horizontal videos," which wouldn't fill the screen when the screen tilted, leaving a lot of white space.
TechCrunch reports that, "at most, 7 million of Instagram's 1 billion-plus users have downloaded its standalone IGTV app in the 18 months since launch" and notes that, according to Sensor Tower research, "TikTok received 1.15 billion downloads in the same period." It points out that the app's lack of "an open way for Instagram creators to earn money directly from their IGTV videos" may be part of the reason why it hasn't taken off.
Instagram will only offer "reimbursement for production costs for a few celebrities" and, according to Bloomberg, asks them to refrain from "content related to politics, social issues, or elections." Also absent from IGTV are "large view counts." For example, BabyAriel, who has almost 10 million Instagram followers, has only one IGTV video with over 500,000 views.
"It's understandable why some creators might be hesitant to dedicate time to IGTV," notes TechCrunch.
Parent company Facebook now allows users to post IGTV videos from the main Instagram video uploader. TechCrunch notes that, Instagram has also never offered a "cropping tool for helping users turn their landscape videos into coherent vertical ones."
"If Instagram still cares about IGTV, it needs to attract more must-see videos by helping creators get paid for their art," concludes TechCrunch. "Or it needs to pour investment into buying high quality programming like Snapchat Discover's Shows." If not, it suggests the company "should divert development resources to its TikTok clone Reels that actually looks very well made and has a shot at stealing market share in the remixable social entertainment space."